« Obituaries | James W. Hogan
James W. Hogan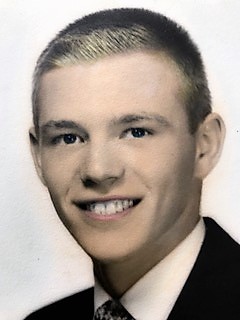 Date of Death: August 8, 2018
Date of Birth: June 20, 1943
Biography:
W. BATH - James Warren Hogan, age 75, of West Bath passed away peacefully on August 8, 2018 surrounded by his loving family at Mid Coast Hospital. Jim was born on June 20, 1943 in Bath, Maine to Forestine Gardner Bartos and Edward Hogan.
He was predeceased by his mother and stepfather Forestine and Emil Bartos, his father and stepmother Edward and Fay Hogan, and younger brother Michael Hogan. He leaves his wife of 48 years Sally, sons Warren Hogan and his wife Jackie Hogan, and James Hogan, his stepdaughters, Heather London and her husband James London, and Allison Stailing and her husband David Stailing, grandchildren, Jessica Glidden, Nick Hogan, Wyatt Hogan, Sydney Rose Hogan, Michael Hogan, Erica Hogan, Katy London, Laura London, Cole Rowland, Clay Rowland, and Caleb Rowland as well as his greatgrandchildren Brooklyn and Willa.

After graduating from Morse High School in 1961 Jim worked for Hyde Windless as an inspector of machine parts and thereafter was employed by Bath Iron Works for 33 years. In his younger years Jim enjoyed lobstering and relaxing at the family camp in Five Islands with his large circle of family and friends. He also loved spending time outdoors in the garden, snowmobiling, ice fishing and bird hunting. Some of his favorite memories were made with his lifelong friends at the shared camp on Upper Black Pond in Bowmantown Township in northern Maine.

He will be remembered by all who knew him as an unpretentious and friendly man. His family and friends will forever appreciate his willingness and keen ability to repair anything mechanical for anybody who needed his help.

A Celebration of Life in his honor will be held at the Bath Golf Club on Saturday, August 18, from 1:00pm to 3:00pm.
In lieu of flowers, contributions may be made in Jim's memory to the people who provided outstanding comfort to the family during this very difficult time: CHANS Home Health & Hospice, 60 Baribeau Drive, Brunswick, ME 04011.