« Obituaries | Edwin A. Hoey Jr.
Edwin A. Hoey Jr.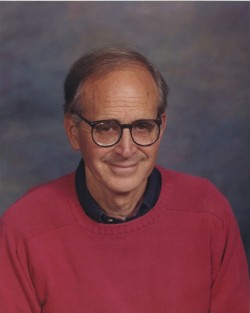 Date of Death: March 16, 2015
Date of Birth: June 24, 1930
Biography:
YARMOUTH AND MIDDLETOWN, CT- Edwin A. Hoey, Jr., 84, known to all who knew him as "Ted", died surrounded by family and friends on March 16, 2015 after a long bout with Alzheimer's. He was a beloved husband, father, brother, brother-in-law, uncle, poet, writer, educator and an all around great guy.
Ted grew up in Chillicothe, Ohio and had what he described as a "Tom Sawyer like childhood". He left Ohio to attend prep school at St. Andrews in Middletown, Delaware where he earned academic honors all three years and lettered in football, wrestling and crew. He then went on to college at Swarthmore where he "survived among the whirling brains and bubbling talents" and became a "Swatter "on their golf team. After college he served in the Army from '52-'54 in Augsburg, Germany as a medic. He also put the troops through their paces by leading calisthenics and on one occasion one of his army buddies set him up to have a dance with Ella Fitzgerald during one of her concerts.
Following his service to Uncle Sam Ted taught English for three years at The Buckley Country Day School on Long Island. In 1957 Ted moved to Middletown, Connecticut to work at what was then American Education Publications. During his tenure he authored the poem "Foul Shot" in 1962, which became widely used to teach poetry to middle school students. He also became the managing editor of Read Magazine. With Ted at the helm, Read was transformed from a social studies periodical to a thriving language arts magazine for middle school students and their English teachers. Upon his retirement in 1997 Read and the National Council for Teachers of English acknowledged his contributions to education by creating the Edwin A. Hoey, Jr. award now known as "The Outstanding Middle Level Educator in the English Language Arts" Award.
Ted's civic activities included donating an outstanding 18 gallons of blood to the American Red Cross. He volunteered his managerial expertise to help raise thousands of dollars for the Russell Library serving through Friends of the Russell Library in Middletown, Connecticut. He was an active member at Church of the Holy Trinity in Middletown as a choir member, volunteer dishwasher at The English Tea Room and volunteered several times a year at dinners sponsored by Holy Trinity Church for St. Vincent De Paul's community soup kitchen.
On a personal level, Ted never met a cookie he didn't like especially if chocolate was involved. He was an avid reader, walker, vegetable gardener and golfer. He enjoyed singing, reading, cycling, skiing, movies, music of all kinds and spending time with family. He was unassuming; a "no muss, no fuss" kind of guy with a throw away wit and humor. Famously thrifty and frugal, his favorite fashion accessory was duct tape which he used on clothing and footwear alike because they otherwise "still had lots of wear and life in them" much to the chagrin of certain family members.
He is survived by his wife, Carole Clew Hoey, daughter, Lesley Hoey of South Portland, Maine, son Edwin A. Hoey, III (Ned) of Santa Cruz, CA, brothers and sisters-in-law and numerous nieces and nephews. A memorial service will be held on May 4, 2015 at 11:00 am at The Church of the Holy Trinity, 381 Main Street, Middletown, Connecticut.
In lieu of flowers memorial donations may be made in Ted's name to the Cure Alzheimer's Fund where 100% of donations go toward research. Donations can be made online at www.curealz.org, by telephone at 781-237-3800 or by sending a check to: Cure Alzheimer's Fund, 34 Washington St., Suite 200, Wellesley Hills, MA, 02481.