« Obituaries | Janice Ruth Hodgkin
Janice Ruth Hodgkin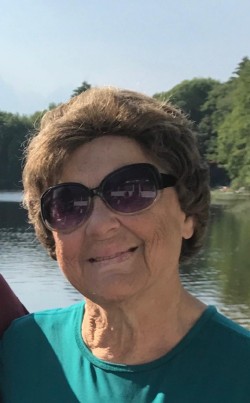 Date of Death: May 31, 2023
Date of Birth: March 4, 1939
Biography:
LEWISTON- Janice Ruth Hodgkin, 84, went to her Lord and Savior on Wednesday, May 31st. She passed quietly in her sleep with the love of her life, Vernon, Jr. by her side. She was born to Vivian (Graham) and Ralph Smith on March 4, 1939 in East Machias, where she was raised and lived until she moved to Auburn at the age of 17. She later met and married Vernon Hodgkin, Jr. on May 3, 1957. Together they had many adventures in their 66 years of marriage. Most memorable was her love for stock car racing. Janice loved to attend the races to watch her husband race and then continued to attend racing at tracks around the state, especially Wiscasset and Oxford. She also loved to accompany her husband as he traveled in his job as a truck driver as well as riding with him on the back of the motorcycle. Together they enjoyed visiting many local restaurants, especially Georgio's and McDonalds.

She is predeceased by her parents (Ralph and Vivian), her stepmother Emily Smith, and her brother Kenny Smith.

Janice is survived by her husband, Vernon L. Hodgkin, Jr. of Lewiston; her four sons and their wives Vernon III and Mary of Mechanic Falls, Wayne and Brenda of Andover, MA, Jim and Mary Jo of Leeds, and Larry and Missy of Mechanic Falls; eight grandchildren Wayne Jr., Jaime (Tom) Cooper, Jessica, Ben, Jake, Allison (Tom) Marston, Caleb, and Jacob; and three great grandchildren Jack and Tatyana Cooper and Preston Marston. She is also survived by her sister, Donna Hiltz, brothers Ralph, Doug, Steven, and Mark Smith.

A service will be held at the East Auburn Baptist church on Saturday, June 10th at 11 a.m. There will no visiting hours prior to the service at the request of the family.