« Obituaries | Atsuko Hirai
Atsuko Hirai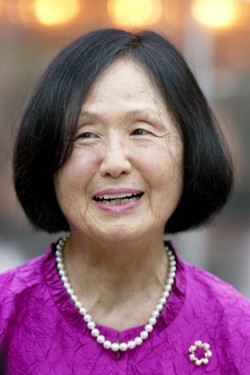 Date of Death: July 14, 2014
Date of Birth: May 31, 1936
Biography:
LEWISTON: Atsuko Hirai, an eminent historian of modern Japan who broadened the curricular offerings in history and Asian studies at Bates College, died July 14 at her home in Lewiston. She was 78.
Hirai was the Kazushige Hirasawa Professor of History from 1988 until her retirement in 2013. Born in Japan in 1936, she studied international relations at Tokyo University and earned a doctorate in government from Harvard University.
At the time of her appointment to one of the first endowed chairs at Bates, Hirai was an associate of research at the Edwin O. Reischauer Institute for Japanese Studies at Harvard, where she lectured on the history and politics of her native land.
Before coming to Bates, Professor Hirai also taught at Sophia University, Michigan State University, Wellesley College and Simmons College. She was a fellow in Japanese and Korean studies at the University of California at Berkeley.
At Bates, she taught introductory and advanced courses in Japanese history as well as specialized courses on Japan in the age of imperialism, World War II in the Pacific, the internment of Japanese Americans during World War II, postwar Japan through film and literature, gender in Japanese history, pacifism in 20th-century Japan, food in Japan, and Americans in Japan.
Professor Hirai's research focused on the comparative and intellectual history of modern Japan and the West, the state and pre-war liberalism in Japan, and women in modern Japan. She authored the book Individualism and Socialism: The Life and Thought of Kawai Eijirō (Harvard University Asia Center, 1987) as well as scholarly articles topics from the influence of the English idealist Thomas Hill Green on Meiji Japan and on Mao Zedong, to family law in the Meiji period, to the early history of the piano in Japan.
Her latest book, Government by Mourning: Death and Political Integration in Japan, 1612–1912, a study of governmental edicts on mourning and related rites in Japan, was published shortly before her death by the Harvard University Asia Center.
Her research was supported by a Fulbright Scholarship, a Radcliffe Institute Fellowship and grants from the American Philosophical Society, the Northeast Asian Council, and the Harvard-Yenching Institute.
Professor Hirai was an accomplished musician and classically trained soprano. She gave several concerts at Bates featuring arias by Mozart and Lieder by composers from Schubert to Richard Strauss, often accompanied by Bates artist-in-residence Frank Glazer.
She was also a gourmet cook who hosted elegant, intellectually lively dinner parties at her Lewiston home.
Professor Hirai's survivors include a sister, Hideko Misawa of Tokyo, nephews Yutaka Misawa of Tokyo and Tooru Hirai of Otsuki-shi, Yamanashi, a niece, Eri Hirai of Otsuki-shi, Yamanashi, and many friends in the U.S. and Japan.
Bates will hold a memorial service for Professor Hirai in the fall. In lieu of flowers, those wishing to commemorate her life may make a contribution to the Professor Atsuko Hirai Scholarship Fund, Bates College, Lewiston ME 04240.