« Obituaries | Madelyn Hill
Madelyn Hill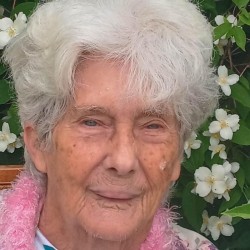 Date of Death: January 6, 2021
Date of Birth: October 5, 1953
Biography:
Beloved mother, sister and friend, Madelyn Ann Hill, 85, passed away peacefully on Thursday, January 6th, at home surrounded by family.  She was born to Wallace and Margaret Danforth on October 21, 1936 and was a lifelong resident of Litchfield.  She married Donald Hill on October 5,1953 and were married 52 years before he passed in 2005.  Together they had eight children.
Maddie was a dedicated mother first and foremost.  Her house was not only full of her own children but she regularly babysat several others and her home was the after school stop for many neighborhood kids.  When her children were grown, she kept the tradition going by taking care of many of her grandchildren. She was happiest when surrounded by family and friends and made anyone who stopped by feel completely at home. "I love you, darlin'", were the words she said most often.
She also loved to read, color and watch old time westerns on television.  She was a lifetime member of The Litchfield Sportsman's Club.
She is predeceased by her husband, Donald; a sister Margaret Porter; and 2 brothers, Cecil Danforth and Terry Chase.
She is survived by her eight children, son Rick Hill (Diane Suerrette), son Randy Hill, son Richard (Ellen) Hill, daughter Debra (David) Pelletier, son and dedicated care-taker Steven Hill, son Timothy Hill, daughter Vickie (David) Burlingame, son Chadd (Jennifer) Hill; 17 grandchildren, Eli, Zoe, Courtney, Nathan, Chelsea, Aisha, Sierra, Crystal, Tiffany, Chevelle, Ryker, Josie, Dante, Tycen, Abbey, Anna and Liam; eight great grandchildren; Sisters Valerie (Roy) Farnum, Leona Perry and Judy Chase; brother Everett (Shirley) Danforth.
Memorial services will be held at Funeral Alternatives on Tampa Street in Lewiston on Monday January 10th.  Visitation will be from 9:00-11:00am with a remembrance service following.  Family will receive guests for a celebration luncheon following the service at The Litchfield Legion Club on Plains Road.