« Obituaries | Col. James "Jim" Hildebrandt
Col. James "Jim" Hildebrandt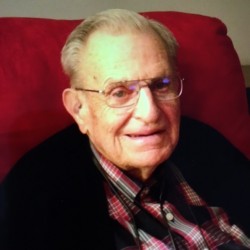 Date of Death: June 21, 2016
Date of Birth: March 13, 1923
Biography:
James Edwin Hildebrandt Colonel United States Air Force (retired)
TOPSHAM - James "Jim" Hildebrandt, 93, of Topsham died peacefully on Tuesday June 21, 2016. He was born on March 13, 1923 in Cincinnati OH, the son of Carl A. and Adelaide D. (Avey) Hildebrandt.
He was a graduate of Cincinnati's Walnut Hills High School, the class of 1941. He attended the University of Cincinnati for 18 months and then served as an Aviation Cadet for 9 months before attending West Point from 1943-1946. After flight training he flew in various operational assignments including the Air Rescue Service in Alaska. After completing his Masters degree in aeronautical engineering at Purdue University, he taught aeronautics at the US Naval Academy before spending the rest of his career in research and development for the Air Force. Projects included the F-102, F-106, Standard Arm missile, SR-71 and B-1A. The capstone of his career was being the original program director for the A-10 attack aircraft in the early 1970's. His 4000 flight hours were as pilot in the B-29, B-17, C-47, B-25 and T-33. He retired as a Colonel in 1975.
After moving to Westmore, Vermont he became active in civic life as Town Selectman and Town Meeting Moderator until moving to Brunswick Maine in 1988. He enjoyed golf, travel, building things and was active in church life. He was dedicated to his spiritual life, his family and to the core principles of West Point.
On April 9, 1949 he married Helen Motsinger of Cincinnati who lives in Topsham. They had two children Karen Mailey and Roger Hildebrandt. Karen is married to Tom Mailey and they have a son Kyle. They live in Gloucester MA. Roger is married to Heidi Rutz and they live in Mt. Sterling KY. Their son Scott Hildebrandt and wife Melanie live in Birmingham AL. Other relatives include Ellen Gribell and Peggy Walker.
In lieu of flowers, donations may be made to CHANS Home Health Care, 60 Baribeau Dr. Brunswick ME 04011 or Brunswick First Parish Church Music Program, 9 Cleveland Street, Brunswick ME 04011.
A Memorial Service will be held on Saturday, August 6, 2016 at 11:00 AM at Brunswick First Parish Church. A committal service will be held the following Monday, August 8 at 12 PM at Maine Veteran's Cemetery on Civic Center Drive, Augusta Maine.