« Obituaries | Diana and Robert Hertz
Diana and Robert Hertz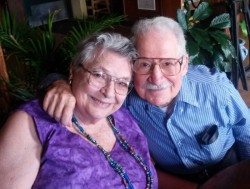 Date of Death: January 7, 2020
Date of Birth: February 23, 1930
Biography:
Diana and Robert (Bob) Hertz, who lived in Gray for the past 30 years, passed away within five months of each other. Diana suffered a massive stroke on August 2, 2019, just two days after their 54th wedding anniversary. She died of complications on August 11, three weeks before her 85th birthday. Bob was stricken with various maladies and died on January 7, 2020, six weeks before he would have been 90.
Ruby Diane Kadlec was born in Chicago in 1934. She married actor Lionel Stander in 1953 and changed her name to Diana. They had daughter Bella in 1955 and were divorced in 1963. She subsequently worked at a film production company in New York City, through which she met Bob in 1964. Robert Steven Hertz was born in New York City in 1930. He joined the Navy during the Korean War and served aboard aircraft carriers in California, Okinawa and South Korea. After graduating from the University of Oklahoma through the GI Bill, he worked for WCBS-TV News in Manhattan, then as a documentary film producer and director for the United States Information Agency, in Washington, DC. During that period he married, had two sons and was divorced. He and Diana were married in Washington in 1965 and had son Steven in 1966. The family moved to Tarrytown, NY, in 1969, where son Colin was born; and after 10 years to nearby Montrose, NY.
Bob, Diana and Colin moved to Gray in 1989. For many years, Bob spent hours a day in his top-floor "eyrie," writing short stories and verse, or in his basement workshop crafting jewelry and sculptures of metal and wood. While working as a leasing administrator at Cole-Haan, Yarmouth, for nearly 20 years, Diana maintained her lifelong practice of painting and drawing. Upon retirement she devoted herself even more to her beloved watercolors, and taught classes in that medium at the Freeport YMCA. Her work is on display at the Gray Public Library and Maine Medical Center, among other locations.
Diana and Bob are survived by four children and their spouses: Colin Hertz and wife Cathy Hertz, of Topsham; Bella Stander and husband Eric Riback, of New York; Steven Hertz and wife Joan Hertz, of North Carolina; Bob's younger son from his first marriage, Jonathan Hertz, of California; and seven grandchildren.
A memorial gathering will be held on Sunday, January 26 at 12 p.m. at American Legion Post 202, 79 Foreside Road, Topsham, ME. Donations in Diana and Bob Hertz's honor may be made to the Gray Public Library, 5 Hancock Street, Gray, ME 04039 (www.gray.lib.me.us); or to Give a Dog a Home, 187 Downs Road, Sebec, ME 04481 (gadah-gsdrescue.rescueme.org).