« Obituaries | Joan D. (Oravis) Henry
Joan D. (Oravis) Henry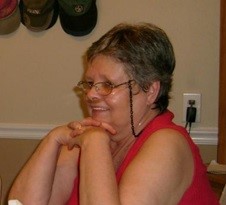 Date of Death: June 4, 2021
Biography:
Joan D. (Oravis) Henry, 74, of Wiscasset, Maine, passed peacefully into the arms of Jesus, with family by her side, at her home on the morning of June 4, 2021.
Joan grew up in Collingswood NJ and attended Collingswood High School. She moved around  a lot, eventually settling down in Florida, where she lived for 28 years before moving to Maine with her daughter.
 Joan loved a good challenge, especially difficult puzzles and cryptograms. She once completed a puzzle of chocolate chip cookies bursting from a clear cookie jar! She enjoyed going to church, frequently asking questions after the service. She was a true believer and wanted to make sure she had it right.
 Joan worked very hard, sometimes working two jobs to make ends meet. She retired early due to her COPD but stayed active as long as she could, going to yard sales weekly, having lunch at the senior center in FL and eventually being a caregiver for her husband, Lonnie until he died. She was very independent and did as much on her own as possible. She was never bitter about her illness, knowing there was a better place waiting for her in Heaven.
Joan is survived by her brother, Michael Oravis (Merry), Berlin, NJ, children, David Harvey Jr (Michelle),Atco, NJ, John Harvey (Lisa), Runnemede, NJ; James Harvey (Michele), Pine Hill, NJ, Carolyn Cook (Danny), Wiscasset, ME, Step children, Lori Ann Sayre (John), OH, Michael Henry, Nancy Teuber (John), Krista Torsell (David), and Christopher Pierce, all of FL., grandchildren, Cynthia Densten (Michael), David Harvey III, Michael Harvey, & Amanda Harvey, all of NJ and Aaron Cook (Jessica)of Maine, great grandchildren Samantha, Chris, Cam, Austin, Caliece, Cadence, Seamus and Jack, several cousins, nieces and nephews.
Joan was predeceased by her parents, John Oravis and Annette Tremblay Oravis Pavlow, her step father Joseph Pavlow, and her husband, Lonnie Henry.
 A memorial service will be held on Thursday, June 17 at 6PM at New City Church, 150 Congress Ave, Bath ME 04530.
 A memorial  service will be held on Saturday, June 19 at 10 AM at New St Mary's Cemetery 515 W Browning Rd  Bellmawr, NJ 08031, where she will be laid to rest.
 Condolences may be expressed at www.funeralalternatives.net