« Obituaries | Frank Heller
Frank Heller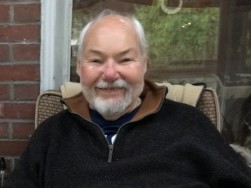 Date of Death: April 30, 2023
Date of Birth: June 20, 1939
Biography:
 Linda Heller is deeply saddened to say that her husband and companion of over 55 years died on April 30th in hospice care  in Brunswick Maine.  Frank was 83 years old, the son of Joseph and Josephine Heller and the older brother of Jean Kleckner of North Carolina. He grew up mostly in Pennsylvania and New York.
      Frank's father was an early advocate and proponent of the benefits of natural foods. Consequently he grew up with parents who gardened and went to local farms to get milk and fresh eggs.  They sent him to Boy  Scout  camp where he learned wilderness and camping skills.
     He graduated from Penn State University and then moved to Washington DC where he competed his Masters Degree in Public  Administration from American University.  It was shortly after that that he helped set up and run an early head start program in Roanoke, Va.  Eventually, Frank and Linda met through mutual friends and became constant companions.  Together they went to Woodstock  and hoped for peace and love to prevail. Soon they married, moving to Maine in 1976 .  They had many adventures traveling cross country in their red Toyota pick up truck.  Frank was gifted in making ordinary things fun.
      Not long after that Frank started his dream project, an all natural whole grain bakery featuring all Maine ingredients.  The Bakery Project was eventually located at the newly renovated Tontine  Mall.  He was early advocate of home computing, started Global Village Learning and later Katahdin  Energy Works.
      He loved gardening and was an early member of MOFGA. He and Linda loved to camp and had many adventures in nature with Baxter, their rambunctious golden retriever.  They loved Maine's natural beauty.
      Even though his health began failing he was full of life. There will be no funeral but a celebration of life at a later date. Bake a loaf of bread and offer an act of kindness in his name.