« Obituaries | Alfred George Heidke
Alfred George Heidke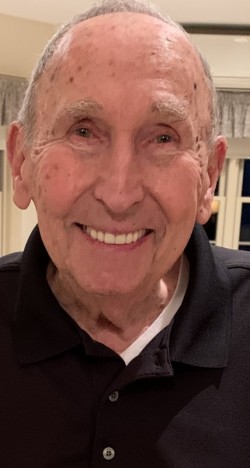 Date of Death: January 29, 2022
Date of Birth: November 29, 1928
Biography:
Alfred George Heidke, 93, passed away peacefully at home with his daughter and her husband in Greene, Maine at the end of January 2022. He was born in Boston to Alfred George and Laura (Adamson) Heidke on November 29, 1928.
He grew up in the Boston area, graduated from Boston Trade School and Wentworth Institute. Alfred served in the United States Air Force and was honorably discharged in 1952. He married Marjorie (Clements) in 1957 and together they raised their family in Massachusetts. After retirement from Gillette, Alfred and Marjorie enjoyed wintering in Naples, Florida. They made many wonderful family memories with their children, grandchildren and great grandchildren at their family camp on Lovewell Pond in Fryeburg, Maine. Alfred was known for sharing stories about his younger days growing up in Boston. He also had many family tales about his adventures with his aunt and uncle building Loghaven in New Hampshire. Alfred loved his time playing and laughing with his great grandchildren. "This is awesome!" he would say. He was a gentle soul and generous with his family. Alfred was called "Pal" by family and friends. "Pal" will be dearly missed every day.
Alfred was predeceased by his parents, his brother, Thomas, his beloved wife of over 55 years, Marjorie, and his grandson, Jonathan David Maislen. He is survived by his daughter Patricia Maislen and her husband Robert Maislen of Greene, Maine, his son Alfred and grandchildren Korileigh and Daniel Heidke of N. Attleboro, MA, his son Leonard and his wife Darlene and granddaughter Abigail Heidke of Medfield, MA, his son Edward and wife Deborah Heidke of N. Attleboro, MA. He is also survived by his granddaughter, Kathryn Doyle and her husband Ryan Doyle and great grandchildren Olivia and Ellie of E. Waterboro, Maine and great grandchildren Ezra and Isabelle Maislen and their mother Julie of Stratham, N.H.
Services will be held at a future date at the Massachusetts National Cemetery in Bourne. In lieu of flowers, donations may be made to Androscoggin Home Care & Hospice 15 Strawberry Ave. Lewiston, ME 04240.