« Obituaries | Larry Haynes
Larry Haynes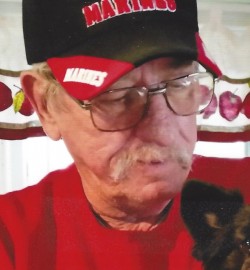 Date of Death: December 7, 2015
Date of Birth: July 1, 1951
Biography:
Auburn-  Larry D. Haynes, 64, of Lewiston passed away at the Hospice House, Auburn, Maine on Monday, December 7.
 He was born in Machias, Maine on July 1, 1951, the son of Pauline (Hoyt-Griffin) and Harry L. Haynes. Step-parent Carl Seeds. Larry grew up in Machias and attended Washington Academy High School.  In 1969 he enlisted in the U.S. Marines and attained E-3 rank.  Larry proudly served two tours as a Marine in Vietnam as a truck driver in 1971 and again in 1972 to 1974.  Semper fi
 Larry continued his love for driving for 20 more years. He retired from truck driving which was his lifelong occupation, in 1998.  Larry enjoyed playing sports in his younger years.  He also greatly enjoyed playing the lottery. He was a longtime member of The Pastime, Mid-Town, Lewiston Social Club and the South-End Club.
 Surviving are his loving wife Suzanne Bardier-Haynes ,married June 12, 2004 and his stepdaughter Jessica Bardier Deschaines and husband Keith and grandson Daxton, stepson Andrew Bardier and grandchildren Zayden, Abrielle and Kyleigh-Ann, brother Leslie and wife Debbie of Machias, first wife Laurie Stone , daughter Heather D. Philbrook and husband Ben of Randolph, granddaughters Jillian and Olivia Philbrook of Florida, Sister-in-law Marlene Haynes of Livermore Falls, nephew Michael Haynes of Livermore Falls and girlfriend Kaley Boucher and his children Christian and Trevor, niece Jennifer Haynes of Enfield ,her child Quincy, and Aunt Linnie Crane of Machias.
 He was predeceased by his parents and stepfather, brother Lee M. Haynes (August 2005), second wife Patricia A. Merritt (1977), stepson Christopher Bardier.
 A special thank-you to Brian Lowe of Superior Paving, Inc, Androscoggin Home Care & Hospice  and his family and friends for their tender loving care.
A graveside service with military honors will be held in the chapel at the Maine Veteran's Cemetery, 163 Mt. Vernon Rd. Augusta on Thursday, December 17th at noon. All are welcome to celebrate Larry's life following the service from 3 to 5pm at the Pastime Club 45 Cedar St, Lewiston, ME 04240.