« Obituaries | Marie I Haskell
Marie I Haskell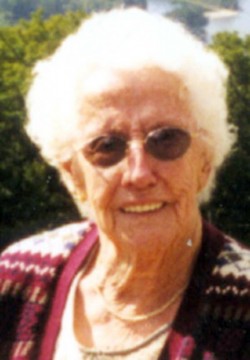 Date of Death: February 27, 2011
Date of Birth: April 7, 1913
Biography:
AUBURN — Marie I. Haskell, 97, died Sunday, Feb. 27, at Clover Manor Nursing Center.
She was born in Waterville, April 7, 1913, the daughter of Proxede and Vitaline (Fortin) Ferland. She was educated in Waterville and Augusta schools and graduated from Cony High School.
She married Francis Haskell on Feb. 4, 1933. She was a homemaker who liked to garden and put up veggies for the family to eat all winter. She submitted many of her flowers to the agricultural fairs. 
For many years, she was active with the Stevens Mills Grange and Rebekah Assembly of Odd Fellows., completing the offices through past noble grand.
She enjoyed Sunday rides, Monday shopping and Friday suppers with sons, looking forward to monthly visits with daughters and having spent many years with a daughter in Florida. She liked to sew and made many clothes for the family. In later years, she made many quilts, afghans, hats, mittens, scarves and lap blankets for family, animal shelter and wounded veterans.
Survivors include three daughters, Marlene Hefferman of Bellingham, Mass., Sally Anderson of Lakeland, Fla., and Sandra Wing of Kittery; three sons, Gary, Mark and Scott of Auburn; 17 grandchildren; nine great-grandchildren; eight great-great-grandchildren; and one sister, Anita Dennett of York.
She was predeceased by her husband, Francis in 1991; her siblings, Herman and Jeanette; and three grandchildren.
The family thanks Dr. Darlene Miller, her assistants, Liz and Marybeth for their dedicated, compassionate care through the years. Also the staff at St. Mary's Medical Center's emergency room and ICU, as well as the nursing staff at Clover Manor. Services are private.