« Obituaries | Peter D. Harvie
Peter D. Harvie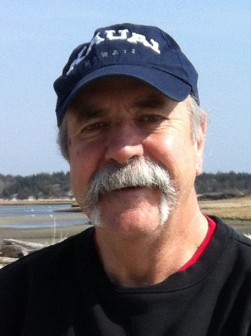 Date of Death: June 14, 2014
Date of Birth: June 20, 1950
Biography:
Brunswick-On June 14th, Peter completed his wonderful trip through this world.  He is survived by his beautiful wife Sharon who was the love and light of his life and who Peter was convinced he was born loving; daughter Jennifer of Longmont, CO; sister Jan of Presque Isle, ME; and brother Bill of Greencastle, PA.  He also leaves behind a much-loved group of friends who, since he was a true believer in the Clarence Oddbody method of calculating success, allowed Peter to measure his life as a huge success. He wished to thank each and every one of you for sharing parts of his journey.
Peter was educated in Bath schools and graduated from Morse High in 1968.  He was serially employed for almost a decade in jobs that included working in the live sewers of Chelsea, MA. The main effect of these experiences was to convince Peter to return to school.  Most notably, he earned an Associate in Applied Science degree in Marine Biology/Oceanography from SMVTI (now Southern Maine Community College).  Those two years were transformative in every sense of the word.  Peter has always said that he learned more academically and personally during that time than in all the rest of his formal education combined.  While he did go on to complete his BA in Zoology from the University of Maine at Orono and his PhD in Molecular Genetics from the University of California, Irvine, Peter viewed these as adjuncts to the much more important passion for learning he developed at the Community College.
After earning his PhD, Peter did postdoctoral research on neurological plasticity at the University of Southern California.  It soon became clear, however, that teaching was his professional passion and he gave up research to devote all of his time to education.  Peter taught at Colleges and Universities in California, New York, Canada, and Maine.  His last appointment, as an Assistant Professor of Marine Science at SMCC, fulfilled a 25-year old desire to have that exact job.
Another of Peter's passions was hockey.  Across three decades he was a regular participant in games in Maine and Canada including four years during which he anchored the blue line for the Halifax Varmints.  He closed out his competitive hockey career as a member of the juggernaut Red Team that went undefeated to win the 2012 Old Fart Classic in Portland, ME.
During the last year of his life, Peter became actively involved in harness racing.  His family has for generations had connections to the sport.  Along with his wife Sharon and coconspirator Roger Dion, Peter established an ownership group which purchased and campaigns a standardbred in Maine. Peter had the great fortune to have an opportunity to be an active owner due to the unflagging patience and kindnesses of the Graffam family at Norton Farms.  Although he never made it out of the greenhorn category, Peter's experiences with racing brought him immense joy.
Peter believed that the happiness in any given place was directly proportional to the number of nasturtiums growing there.  So, in lieu of grieving, he requests that you plant nasturtiums – plant them often and wherever they will grow.  If anyone wishes to make a memorial contribution in Peter's name, please consider donating to the Friends of Barry Fund, a fund established years ago among our friends for the purpose of providing funds to improve our collective community, often by providing assistance to those in need.  Donations can be sent to FOB, c/o J. Provencher, 15 Winslow Ct., Bath, ME 04530.
A celebration of Peter's life will be held at Scarborough Downs on Sunday, July 13 at 1:05 PM.  Please attend and accept those same gifts of friendship he received for so many years.
Arrangements are under the care of Funeral Alternatives 8 Pleasant St. Brunswick, Me 04011.