« Obituaries | Elaine "Harty" Hartford-Sanborn
Elaine "Harty" Hartford-Sanborn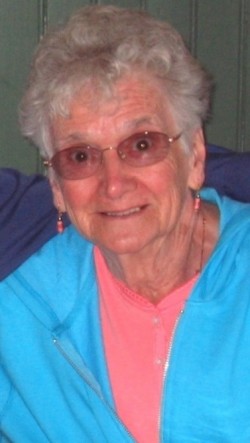 Date of Death: March 22, 2015
Date of Birth: January 30, 1927
Biography:
Elaine Hartford Sanborn
1927-2015
Elaine "Harty" Sanborn, 88, of Livermore Falls, lost her battle with cancer on Sunday,
March 22, at Androscoggin Hospice House in Auburn, surrounded by her loving family.
Elaine was born on January 30, 1927, on Tear Cap Road in Hiram, daughter of Lora and
Herbert Hartford. Elaine was the third of four children; she was sister to Owen Hartford,
Herbert "Slick" Hartford, and Clement Hartford.
In 1945, Elaine graduated from Fryeburg Academy and married Myron Leroy Sanborn
on February 26, 1949. Together, they happily raised their four children in Bridgton. After
devoting time to raising her family, Elaine worked at Saunders Mill in Bridgton where
she retired after 21 years.
Elaine enjoyed fishing and snowmobiling with family, traveling with family and friends,
and hosting numerous family gatherings with always a request of her famous Chicken
Casserole. Elaine will be fondly remembered for her array of hats. Later in life, Elaine
and Myron moved to Fryeburg and later to Livermore Falls. Elaine discovered a love for
reading books—averaging six books a week—puzzles, and enjoyed snow tubing, even till
age 87.
Elaine is survived by her four children; Gerald and Susan Sanborn of Harrison, Linda
and Frank Sargent of South Paris, Steven and Annette Sanborn of Livermore Falls, and
David and Linda Sanborn of Bridgton, as well as her ten grandchildren, sixteen greatgrand
children, and one great-great grandchild. The family greatly appreciates the
excellent care and support given by Androscoggin Home Care and Hospice.
In memory of Elaine, the family requests that donations be made to Androscoggin Home
Care and Hospice. Condolences may be expressed at http://www.funeralalternatives.net/.
A graveside service will be announced at a later time.