« Obituaries | Gertrude "Tede" Harrington
Gertrude "Tede" Harrington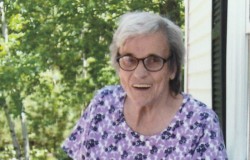 Date of Death: October 18, 2013
Date of Birth: June 10, 1934
Biography:
Gertrude "Tede" Harrington, 79, died Friday, October 18, 2013 surrounded by her family after a courageous battle with cancer.  She was born in Augusta, Maine on June 10, 1934, the daughter of Elinor and Loren Daggett.  She was a resident of Augusta her entire life where she met her husband of 61 years, Albert J. Harrington, Sr. 
Tede had an amazing passion and ability for helping children, regardless of what troubles they were having, and this shined throughout her life.  As a mother of seven children and many foster children, as well as working in Head Start programs, Tede pursued her college degree in Elementary Education.  She then taught kindergarten, second grade, and seventh grade in the Augusta and Windsor school departments, Adult Education classes, continuing education courses in Children's Literature through the American Institute for Creative Education, and was an Assistant Principal.  She also opened three Nursery Schools in the Augusta area. 
Tede had a love for poetry, literature, and music.  She owned a book store, Reading Treasures, and was a published author of poetry and short stories.  Both playing and listening to music brought her great joy.  The piano, accordion, and clarinet, as well as singing were favorites of hers.  Much loved past times included rug hooking, reading, rides in the country, sitting on her back porch bird watching and doing puzzles, and spending time with her family, especially during the holidays.  Favorite getaways were trips to Atlantic City with her husband and daughters, and to her camps in Somerville and the Forks.  Being a stroke survivor, her strong will and determination allowed her to overcome many obstacles and gave her strength to support others in similar circumstances.        
Tede was predeceased by her parents, Loren and Elinor Daggett, step mother Grace Daggett, brother Linwood Daggett and wife Winnifred, brother Edwin Daggett, and grandson Barrett Harrington.
Tede is survived by her husband, Albert; beloved cat Honey; son Albert Harrington Jr. of Oregon; daughter Susan Harrington of New York; daughter Jane Moore of Augusta; daughter Peggy Harrington of Randolph; son Shawn Harrington and wife Deborah of Augusta; son Kevin Harrington and wife Hazel of Greene;  daughter Julie Rocque and Michael of South China; sisters-in-law Mary Harrington and Mildred Tortorella of Massachusetts, and Dolores Daggett of Augusta; cousin Myra McKenney and close friend Elaine Bossie of Massachusetts.
Tede had a special place in her heart for her grandchildren and great grandchildren:  Tonya Harrington;  Amanda Larrabee;  Ericka Deering, husband Troy and children Grace and Jason; Katie Cunningham and son Bradley; Sonya Purington, husband Kyle and sons Abraham and Wyatt; Angela Harrington;  Audrey Shaw-Helmer, husband Casey and children Madison, Victoria, Julia and Joseph; Michael Rocque; Alisha Harrington; Jacob Rocque and daughters Leahna and Juliahna; Jenna Harrington; Laura Rocque; Michaela Harrington; Caleb Harrington.  She is also survived by several nieces, nephews, and cousins.   
At Tede's request, there will be a private service at the Unitarian Universalist Community Church, 69 Winthrop Street, Augusta, Maine on Monday, October 28th, 2013 at .  In lieu of flowers please make donations to the Lithgow Public Library for the purchase of children's books, 45 Winthrop Street, Augusta, ME  04330.  Interment will be at a future date.