« Obituaries | Linda Mae Harrington
Linda Mae Harrington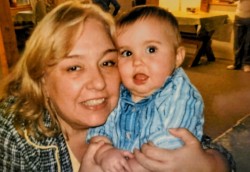 Date of Death: August 28, 2023
Date of Birth: April 29, 1955
Biography:
Augusta- God wrapped his arms around our beloved sister Linda Harrington August 28, 2023 after a courageous battle with cancer that took her family by surprise. Linda started feeling unwell in early 2022, and it took nearly a year of medical appointments to discover the cause. Throughout her illness, Linda showed kindness and compassion to her family and told us not to worry because she had a good life.
Linda was born April 29, 1955 the fourth child of Maurice and Mary Olga Harrington. She graduated from Cony High School in 1973 and spent most of her career working for the Department of Health and Human Services, retiring early to help care for her elderly parents when their health declined. Linda was a mild-mannered and generous soul who went out of her way to help others. She often provided rides to friends and family who couldn't drive and always expressed concern for the problems other people faced.
As a child, Linda attended Nash School in Augusta and often mentioned it as a fun part of her childhood. When she was older, she traveled to Hawaii with a friend from high school and throughout Europe with her older sister, Rose. She shared many humorous anecdotes about these trips such as how she believed the whole country of Czechoslovakia suffered from a strange odor.  "The entire country smelled," she said. She felt vindicated after learning that a certain chemical was used to clean the public streets at the time. Linda was known for having a strong nose and could smell a scent long before anyone else. 
Linda also loved television. Everything from The Merv Griffin Show to Cheers to Oprah to Young Sheldon. Her sister Rose once joked that if Linda needed to list her favorite TV shows, there wouldn't be enough room on the newspaper page.
In the 1990s, Linda went on numerous road trips with her younger brother Dan, sister Louise and brother-in-law Tom. The foursome traveled to Virginia, New York, Pennsylvania, Toronto and too many other places to name. Linda once posed for a picture where she pretended to be ready to dive into Niagara Falls. We went on so many trips together that Linda said she couldn't properly recall one vacation from the next. They all blended into one collage of happy memories. 
In more recent years, Linda liked traveling with friends Millie and June to Atlantic City, as they shared the same thrill of gambling. Linda always suspected a jackpot was nearby, and the family can still see the smile on Linda's face when she entered a casino. The very sight of slot machines boosted her spirit. 
Linda enjoyed being positive and advised others to forget the negative. She was very close to her late mother, and the two went on countless shopping adventures over the decades to Marden's, Reny's and Goodwill among other places. The mom and daughter duo were always eager to find a deal. Linda would shop for everyone she knew. She'd constantly pick up items for family that she thought we'd find useful and then hold onto them for far too long.  
Other times, Linda could be a homebody. Most weekends, she'd visit with her sister Mary Lee to discuss the events of the day, watch movies and listen to music for hours on end. She also liked going places with her sister Theresa, and the two spent many summers at the beach, the movies or at waterfront concerts.
Linda was a pillar of our family, part of the glue that held us together. Our family light is dimmed without her, but we have faith that we will see her again. Until that time, Linda will live on in our hearts as an example of compassion and generosity. We only wish we had more time together.
Linda is survived by her sisters Rose, Louise (and Tom), Theresa, Mary Lee (and Joe), her brothers, Pat (and Tammy), Maurice jr. and Daniel, as well as many nieces, nephews and friends.
A memorial and prayer service will be held at Sacred Heart Parish Hall 7 Summer Street in Hallowell 11:30am -1:30pm Friday October 6.
Condolences may be expressed at www.funeralalternatives.net