« Obituaries | Crystal Marie Harnden
Crystal Marie Harnden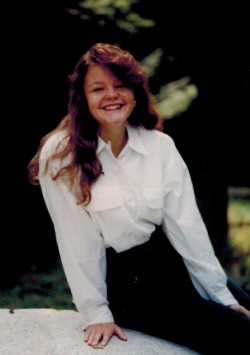 Date of Death: October 12, 2018
Date of Birth: July 30, 1976
Biography:
Crystal Marie Harnden, 43,  of Auburn passed away on October 12th, 2018 in Auburn. She was born in Lewiston on July 30th, 1976.
Crystal attended Auburn schools, graduating from Edward Little High School in 1994. She enjoyed reading and watching movies, especially Stephen King. Another passion of hers was arts and crafts, as well as sewing. She made all her own outfits and Halloween costumes. She also enjoyed color guard, and drama club at the Community Little Theater in Auburn.
Earlier in life she was a writer at the Sun Journal. Later on she spent a lot of her time volunteering. As a volunteer summer camp counselor, she loved to help the kids with their arts and crafts projects. She also volunteered at the police station, receiving awards for the number of hours she volunteered.
Crystal was predeceased by her twin brother, Troy Harnden, and her grandfathers, Lionel Harnden, and Joseph Caron.
Surviving her are her mother, Flossie Caron; her grandmother, Marion Stevens; her Aunt Linda Stevens, and many more aunts, uncles, and cousins. She will also be missed by her companion, and sweetheart Thomas Hill, and his sisters Brenda and Karen; and her best friends Darcy and Brooke.
A celebration of life will be held at a later date.