« Obituaries | Frederick Charles Harlow
Frederick Charles Harlow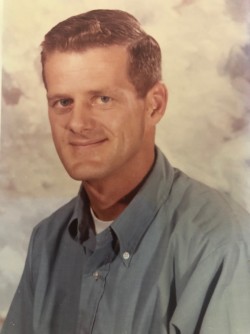 Date of Death: June 16, 2021
Date of Birth: August 10, 1938
Biography:
Frederick "Fred" Charles Harlow, 82 , of Mexico, Maine passed away on Wednesday, June 16, 2021 at the Androscoggin Hospice House in Auburn, Maine, after being a resident at the Rumford Community Home for three years.
He was a beloved son, brother, husband and father to his family. He was born on August 10, 1938 in Rumford, Maine to Frederick Harlow and Rosalie (Beamis) Harlow. He was a lifelong resident of Mexico and served in the Navy from 1957 through 1962. He enjoyed his time served as he was able to travel to the Caribbean and South America. He returned to Maine, where he met and married his late wife, Rosemary Rackliff Harlow of West Farmington, Maine, on March 24, 1962. They raised their family of four children in Mexico.
He was employed for many years with the local school district, SAD#43, as a bus driver/custodian, where many of the children affectionately called him "Uncle Fred". Later on he was employed as a Superintendent with the Mexico Water District when he retired at the age of 65.
He was known and loved by his family and friends as a hardworking, quiet man who always had a smile and usually a joke for all he met. He was also quite the handyman and was willing to help anyone in any way he could. He loved to hunt and fish with his brothers, sons and friends. After his retirement, he enjoyed going metal detecting with his best friend, his brother Tom. He found many "treasures" which he passed on to his children and grandchildren. Everyone he met was given a windchime he had made from spoons and forks in his spare time. His greatest joy was in spending time with his wife, children, grandchildren, great-grandson and family.
Fred was predeceased by his wife, Rosemary (Rackliff) Harlow, his son, Raymond Lewis Harlow, his parents Frederick Harlow and Rosalie (Beamis) Harlow, and his brother, Henry Harlow. He is survived by a daughter, Gail Halliday and her husband William, and two sons, Frederick Harlow Jr. and David Harlow; three grandchildren, Patrick Bulger and his wife Connie Money, Meagan Halliday and Raymond Halliday, and a great-grandson, Oliver Bulger; his brother Thomas Harlow and his wife Phyllis; and four sisters, Dorothy Bradley, Marlene Provencher, Helen Cormier and her husband James, and Susan Gould and her husband Archie; as well as many in-laws, nieces and nephews from both sides of the family.
The family would like to express their appreciation for all the caretakers at the Rumford Community Home and the Androscoggin Hospice House for taking such wonderful care of their loved one.
A graveside service at Demerrit Cemetary in Peru, Maine and a Celebration of Life will be held in the fall.
"As long as we remember a person, they're not really gone. Their thoughts, their feelings, their memories, they become a part of us".