« Obituaries | Gladys Ruth Hanson
Gladys Ruth Hanson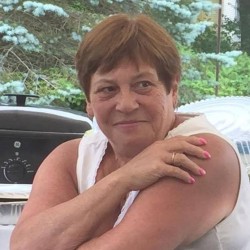 Date of Death: April 8, 2023
Date of Birth: February 9, 1956
Biography:
Gladys Ruth Hanson, 67 - North Yarmouth passed away on April 8th 2023 after a brief illness. Gladys, or Lily as she was known to close friends and family was born on February 9th 1956 in Munich, Germany to William and Gloria Gallant Hanson. The Hanson kids were Army Brats, but Lily loved being the only one of them who was born in another country.
 Lily was an exceptional cook and an even better baker. She spent many hours perfecting her Grandmother's recipes and they were always family favorites at any gathering. Lily loved to make special treats for people- baking for people she cared about was her love language. If there was ever a new recipe we wanted tested we knew who to call and it would often be delivered the next day.  Christmas candies were made by the pounds and delivered to co-workers, neighbors, friends and family and they never disappointed.
 Lily wasn't just skilled in the kitchen. She was incredibly crafty - needlepoint, quilting, knitting, sewing, painting- she could do it all. Often fixing something someone else in the family had messed up! She was an amazing cribbage player too- more than once she got a phone call to referee a hand or count cards. Recently she'd become a big fan of Sunday dinner and card games at her Aunts. It was a great way to end any weekend with cards flying and lots of laughs.
 Lily worked for LL Bean for over 35 years and was proud of her job and her service to her employer. At the time of her passing she was in their loss prevention department. She had talked about retirement several times but then we would hear "I think I'll go one more peak…"
 Lily was preceded in death by her parents and brother, Thomas Hanson. She is survived by her sister, Sandra Green, brother, Glenn Hanson. Aunt Donna Gallant, Uncle Edward Hanson. Christopher Green, Colton Copp & Colby Green. Her Buffalo family and many cousins. And her dog, Lizzie.
 This summer we will do a celebration of life in Lilys honor- with all of her favorite people and foods.
 In lieu of flowers please consider a donation in memory of Gladys Hanson to the Gosnell  Hospice House. Gosnell provided Lily with the respect, kindness and dignity that everybody deserves.