« Obituaries | Vera C. Halter
Vera C. Halter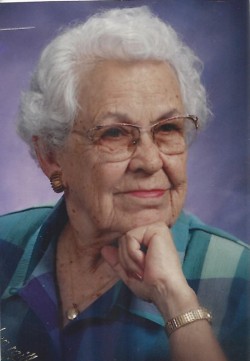 Date of Death: May 12, 2019
Date of Birth: January 11, 1917
Biography:
BRUNSWICK - Vera C. Halter, age 102, died on May 12, 2019 at Mere Point Nursing Home in Brunswick. She was born January 11, 1917 in Pittsburgh, PA, the daughter of Glen and Olive (Ross) O'Hara of Bradenton, Florida.
Vera was a member of Women's Clubs and Bridge Clubs in Ben Avon, PA and Deltona, FL, and also President of Women's Auxiliary at Volusia County Hospital in Florida. She was always active in her local Presbyterian Church.
Vera was a homemaker and mother extraordinaire. She hosted many parties and had lots of friends! She enjoyed playing golf and bridge until macular degeneration prevented her from doing so. In 2005 she moved to Maine and had many friends at the Highlands, including George Andrews, a close companion who died at the age of 104 in 2014. She moved to Mere Point Nursing Facility in Brunswick in 2016.
She was a secretary at Price Waterhouse in Pittsbugh, PA before her marriage in 1937. After retirement to Florida, she worked in a golf course pro shop as a bookkeeper for many years.
Vera was predeceased by her husband, Eugene J Halter, sister, Jean Kling of Wachula, Florida and her parents.

She is survived by daughter and son-in-Law, Judith and David Woodman of Harpswell; son, David Halter of Southport, North Carolina; grandson and wife and stepson (Eric Woodman, Stacey Coleman and Jacob Calahan) of Westborough, MA; granddaughter and husband and three great grandchildren (Tracy Woodman, Courtney Shriver, and Theo, Celia, and Maxton Shriver) of Seattle, WA.

In Lieu of flowers donations may be made to Midcoast Senior Health Care or CHANs Home Healthcare and Hospice and should be sent to: Mid Coast-Parkview Health, P.O. Box 279, Brunswick, ME 04011