« Obituaries | Frank R. Hallowell
Frank R. Hallowell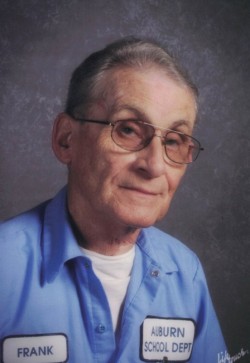 Date of Death: October 18, 2021
Date of Birth: December 3, 1935
Biography:
Frank R. Hallowell Jr.--Lewiston--Frank R. Hallowell Jr, 85, passed away early Monday morning on October 18 at Montello Commons in Lewiston.  
He was born on December 3, 1935, the son of Pearl and Frank Hallowell Sr.
After graduating from Edward Little High School, he enlisted in the United States Air Force and was stationed at Travis Air Force Base in California, where he served as a petroleum supply specialist in which he inspected fuel tanks and filled the military planes.  
Upon being honorably discharged from the Air Force he worked as a mortician assistant at several funeral homes in the Lewiston/Auburn area.  His most enjoyable employment was working for the Gray/New Gloucester School Department, where he was employed as a custodian for 36 years.  At the same time he also worked for the Auburn School Department as a custodian part time for 27 years.  
He was very proud of the children who he interacted with for many years and spoke of them often.  He cherished each and every school picture and card he ever received from the students and staff and saved every single one of them.  From what has been said about him, he was more than just a custodian,m he was a friend to all and cared for everyone.  
Survivors include his step mother and dear friend, June Hallowell of Bath, two brothers, Dale Hallowell and his wife Sue of Greenville, NH and Brian Hallowell and his wife Holly of Mount Vernon.  He is also survived by several nieces and nephews.  Frank was predeceased by his parents, his stepfather, Irving Blanchard and two sisters, Nancy Hudson and Judy Rancourt.  The family would like to send many thanks to the staff at Montello Commons for the care they provided to him over the past few years.  Per Franks request, there will not be any visiting hours.  A graveside service is scheduled for November 5 at 11 a.m. At Mount Auburn Cemetery in Auburn, ME.