« Obituaries | Cheryl Hale
Cheryl Hale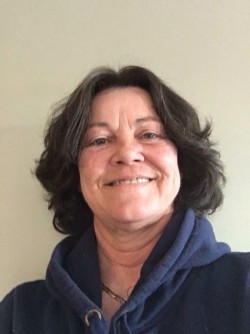 Date of Death: July 9, 2018
Date of Birth: January 16, 1958
Biography:
Cheryl A. Hale, 60, of Durham died on July 9th, 2018 in Lisbon Falls.
Cheryl, known as Cher to everyone, was born on January 16th, 1958 in Jacksonville, FL. She moved around a lot as a child before settling in Maine. She graduated from Brunswick High School in 1976, and entered the Army later that year. While in the Army she worked as an electrician. Upon her return to Maine she had numerous jobs and was very talented.
Cher was very spiritual, artistic, outgoing, and adventurous. She also had a love for animals.
She leaves behind her loving family; brothers, Herbert E. Graham Jr. of Lewiston, Timothy Graham of Seattle Washington, Dennis Daigle of Lisbon Falls; her sisters, Victoria Cloutier of Durham and Julie Chapman of Lisbon; and her beloved dog Heidi.
Cher was buried on September 11th, 2018 at Hillside Cemetery in Lisbon Falls, Maine. Memorial contributions can be made to your local humane society.