« Obituaries | Dianne Molin Gutscher
Dianne Molin Gutscher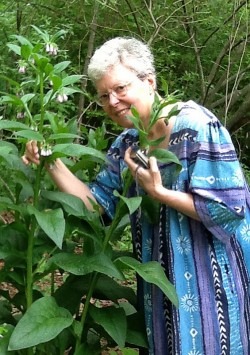 Date of Death: August 20, 2019
Date of Birth: February 16, 1947
Biography:
Dianne Molin Gutscher, 72, dear wife, sister, and aunt, close friend to many passed away August 20, 2019 at the Maine Medical Center from complications after cardiac surgery.
The eldest daughter of Arthur and Bernadine Molin, Dianne was born in 1947 in North Bergen, New Jersey.  She graduated from Pratt Institute with a B.S. degree in Food Science and began working as a nutritionist. Dianne married Chris Gutscher in 1969 and the couple moved to Brunswick in 1972.  Shortly thereafter Dianne began her thirty-year career at the Bowdoin College Library, working first in the Government Documents Department and for most of her career in Special Collections.  Dianne was devoted to serving library users and developed a comprehensive knowledge of the Library's rare book and manuscript collections, as well as of the history of the College — a winning combination for countless researchers.   She was instrumental in the successful federal grant application to establish the Bowdoin College Archives.  In 2003, Dianne retired as Associate Curator of Special Collections Emerita.  Even after retirement, she was consulted because of her vast knowledge of the Library's Special Collections.
Dianne traveled widely. But her trip to Egypt exploring ancient sites was the high point.  She was passionately interested in history and genealogy, studying her Italian heritage, and developed an interest in flower gardening, which gave her great pleasure.  She was a voracious reader, intensely curious, and pursued knowledge of many subjects. She was known for encyclopedic memory, sharp sense of humor and acceptance of everyone.
Her husband Chris, whom she encouraged in all his pursuits, survives Dianne. Her younger sister and brother-in-law, Angela and Alex Thor, of Syracuse, New York and their daughters Ana and Nissa, also survive her.  She is preceded in death by her parents Arthur and Bernadine Molin and her beloved cat Chloe.
A memorial service will be held Sunday, September 8th, at 4:00 p.m. at the Brunswick Unitarian Universalist Church, at 1 Middle Street, Brunswick. In lieu of flowers contributions may be made to the Curtis Memorial Library's Garden and Grounds Fund.