« Obituaries | Theresa Gustus
Theresa Gustus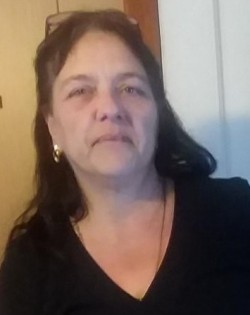 Date of Death: February 23, 2022
Date of Birth: January 19, 1966
Biography:
Theresa (Ouellette) Gustus, (Terry), 56, of Lisbon, passed away peacefully at Androscoggin Home Care & Hospice in Auburn on February 23, 2022, with her husband and children by her side following a long battle with a rare lung disease.
She was born in Lewiston on January 19, 1966, daughter of the late Maurice & Noella (Pelletier) Ouellette. She graduated from Lewiston High School in 1984.
Terry married her soulmate, Rory Gustus on June 23, 1984. They raised their family in Sabattus.  She was well known in the community while working as office manager of NMC Home Care.
Her biggest joys in life were her family. Her granddaughters were her world, and she also had a special bond with her great niece Kinsley Gustus.  She loved all animals, especially her pets, Missy and Precious.  Terry personified love and always showed empathy towards anyone who crossed her path.  She loved to cook and was always the first to offer a meal to anyone in need.  She made sure that no one left her home hungry. Her legacy will be how she instilled in her children and grandchildren the gift of compassion for others.  
She is survived by her husband, Rory Gustus, daughter Jennifer Pedersen and husband, Ben, son Joseph Gustus and girlfriend, Desirae Cyr, granddaughters; Kayleigh and Payten Pedersen, sisters; Diane Madore and husband, Roland, Linda Goulet, Tammy Grondin and husband, Mark, sister-in-laws; Regina Dagneau, Cindy Stevens and husband, Howard, Linda Gustus and many nieces, nephews, cousins, and lifelong friends.
She is predeceased by her parents, sister-in-laws Donna Pratte, Judy Scott, brother-in-laws Bert Goulet, Ricky Gustus, nephews; Michael Goulet, Cameron Madore, Nathan Pratte and niece Katrina Pratte.
Visitation will take place at Funeral Alternatives, 25 Tampa Street, Lewiston on Friday, Mar. 4, from 4 to 6 p.m. A memorial service will be held the following day, Saturday Mar. 5 at 11am, located at Funeral Alternatives, 25 Tampa Street, Lewiston.