« Obituaries | Alpha Charles Gurney
Alpha Charles Gurney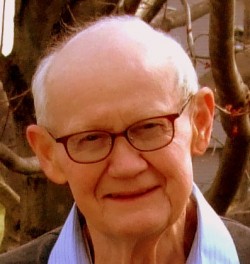 Date of Death: April 16, 2016
Date of Birth: April 12, 1937
Biography:
Augusta-Alpha Charles Gurney, passed away peacefully on Saturday, April 16, 2016 at age 79 surrounded by his loving family.
He was born and raised in Manchester, ME and was a graduate of Cony High School, Class of 1955 and of S.M.V.T.I. where he studied electrical and television engineering.  He was married to his loving wife, Georgie (Palmer) Gurney for 57 years, and was the son of the late Charles (Alphie) Gurney and Louise (Snow) Gurney Webster of Augusta and Manchester, Maine. Alpha served in the Air National Guard as a younger man. Alpha worked at the Maine Department of Transportation for 39 years, retiring in 1996 from his position as Director of Mapping and Research in the Right of Way Division. He also worked at B&B Auto Service/Car Dealership, where to the disbelief of the owner, his brother, Robert "Bob" Gurney, he was best known as "Honest Al, the Car-Buyers' Pal."
Alpha was a caring and generous man, always willing to lend a helping hand and never seeking recognition for his efforts.  He was trusted by all and known as someone blessed with both an incredibly sharp intellect and an enormously warm and caring heart. In retirement Alpha could be found working on his beloved home and fields, enjoying his family, roaming Home Depot "just to see what's new," and consistently dismantling and rebuilding all major pieces of machinery in his garage in his search for ever improving performance. Alpha was a long time member and active participant at Penny Memorial United Baptist Church in Augusta where he served as a trustee for many years and the "go to" person, regardless of hour, when something went wrong in the building. He will be sorely missed by all he touched.
Alpha is survived by his wife Georgie, daughter Holly Gurney of Lewiston, daughter Valerie Gurney and husband Matthew Daniel of Bedford, MA, three grandchildren – Riley Daniel, Elizabeth Gurney and Parker Daniel; his daily lunch or phone pal, best friend and beloved brother Robert (Bob) Gurney, nieces and nephews, and a host of other family and friends. His brother Robert Gurney and wife Bonnie currently reside in Manchester, ME, and his sister Janice Durning currently resides in St. Clair, MI with her husband Lester.
At Alpha's request, there will be no funeral or memorial.  For those who wish, donations in Alpha's memory may be made to the American Heart Association at www.donatenow.heart.org
Arrangements are under the care of Funeral Alternatives Group 198 Western Ave. Augusta, Me 04330