« Obituaries | Anita L. Guay
Anita L. Guay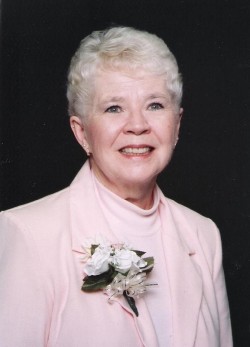 Date of Death: May 27, 2017
Date of Birth: June 23, 1933
Biography:
AUBURN – Anita L Guay, 83, formerly of Lisbon Falls, died Saturday, May 27, 2017 at Clover Manor in Auburn. Anita was born in Lewiston on June 23, 1933, the Daughter of Raoul A. Francoeur and Regina Simard Francoeur. She was a graduate of Richmond High School, class of 1950.
She married her only love, Marcel F. "Mike" Guay on her birthday in 1951. They raised four sons, and enjoyed fifty-eight years of marriage until Mike's death in 2009.
A resident of Lisbon Falls since 1967, Anita loved serving the public and was well known in town. She worked many years as a clerk at Robert's Pharmacy before joining the Lisbon Community Federal Credit Union in 1986, assisting members until her retirement in 2008. She enjoyed knitting and dancing; her hand-made sweaters were much admired, as were her and Mike's moves to the sounds of the big band era.
In addition to her husband, Anita was predeceased by two sons, Mark B. Guay and Jeff A. Guay.
She is survived by two sons, Bruce M. Guay and wife Deborah Ringuette of Auburn, and Scott L. Guay and partner Marsha Merryman of Oakland, as well as six grandchildren, six great-grandchildren, and many extended family and special friends.
The family would like to thank the staff of Thornton Hall and Clover Manor for the care and compassion they provided Anita in her last two years of life. Although it was very difficult for her to leave her home of forty-eight years, you made her feel safe, secure, and loved.
A Mass of Christian Burial will be celebrated at Holy Trinity Catholic Church, 67 Frost Hill, Lisbon Falls on  Saturday, June 24 at 11 a.m.  Interment at Gracelawn Memorial Park in Auburn at a later date.