« Obituaries | Evelyn L Grondin
Evelyn L Grondin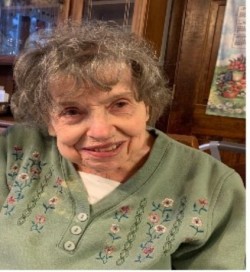 Date of Death: April 13, 2021
Date of Birth: March 16, 1932
Biography:
AUGUSTA - Evelyn L. (French) Grondin, 89, died April 13, 2021 peacefully at home, with her children by her side.    
She was born on March 16, 1932 to Harry French and Tena (Lunt, French) Wilkinson in the Windsor farmhouse of her grandparents, Will and Grace French, where she was raised.
She held many special memories of the years she spent growing up on the farm as "Gramp" worked in the woods and "Grammie" kept the homestead going while Mom and her sister, Marion, attended one-room schoolhouses in Somerville and Windsor.
Mom always said it was hard to find someone whose cooking and baking skills compared to Grammie Grace's.
Every summer, Mom and Marion would help Gramp weed his many gardens. She also liked to take a few minutes each day to scratch the pig's back with a stick.
On her birthday, Gramp would take Mom in the woods to tap sap from a tree to drink for a special treat.
She was an avid reader and spent many hours with a book, particularly mysteries, and enjoyed listening to soaps and mysteries on the radio such as "The Shadow" ("Only the Shadow Knows")
During the Depression, she and her grandparents listened to President Franklin D. Roosevelt's "Fireside Chats" on the radio.
Mom also liked to sing and yodel. When she was a young teen, her mother bought her a guitar which she learned to play by ear. She loved music, especially country, and her grandfather encouraged that passion with the organ they had in the home and listening to music on the radio.
She went to live with her father and stepmother Mary (Dolly) in Hallowell during her high school years, but returned to Windsor to be with her beloved grandparents every weekend and school vacation.
She graduated from Hallowell High in 1949 and was voted "the shyest" in her class. Needless to say, former classmates were shocked when they heard that she had six children.
After high school, she got a job at Augusta General Hospital where she met her best friend, Marie Plaisted and her future husband, Armand "Jim" Grondin, while he was helping his father with a carpentry job.
Mom and Dad married on April 14, 1951 and lived in Tennessee while Dad was stationed at Fort Campbell, Kentucky while serving in the Army.
Mom was a homemaker when her children were young and eventually went to work for the state of Maine, where she retired after 28 years. 
She has been a member of the Fellowship Baptist Church in Augusta for 35 years.
Her favorite thing to do was to spend time with her family and her cat Harry! In earlier years she loved to go to the coast as often as she could in the summer.
She is predeceased by her husband, Jim;  a son, Stephen; her grandparents; her parents; a sister Beverly Arellano; her in-laws, Leona and Philibert Grondin, Rita Farrington, Lucien Grondin, Romeo Grondin, Lucille and Joe Chetcuti and Patrick Giblin .
She is survived by her five children, Robert Grondin and his partner Tina of Mount Vernon & Winslow; Alice Chicoine of Windsor; David Grondin of Windsor; Joyce Grondin of Augusta; Pamela Savoy and her partner Clery of Augusta: and Stephen's longtime partner Sandra Sisson of Augusta; her sister, Marion Giblin of Arizona; five grandchildren: Stacy, Jessica, Joe, Steven and Alicia; 8 great-grandchildren; 3 great-great grandchildren; and several nieces, nephews, cousins and friends. 
A special thank you to Ramon E. Cheleuitte, M.D. for his excellent care and kindness to our mom through the years.
A service will be held at Fellowship Baptist Church, Augusta on May 7, 2021 at 11:00 AM with a small reception following at Le Club Calumet.   Buriel will be at a later date.
Donations in her memory may be made to Fellowship Baptist Church, 237 Eastern Ave. Augusta ME 04330 or Kennebec Valley Humane Society, 10 Pethaven Ln, Augusta, ME 04330