« Obituaries | Evelyn A. Grimmel
Evelyn A. Grimmel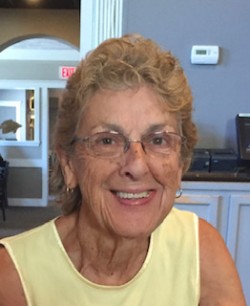 Date of Death: September 16, 2022
Date of Birth: May 15, 1942
Biography:
Evelyn A. Grimmel, 80, of West Paris, passed away after a hard fought battle against pancreatic cancer on September 16, 2022 at Hospice House in Auburn.
Evelyn was born in St-Côme, QC in 1942 to parents Alfred Gauthier and Félixine Paquet. Evelyn grew up on a small farm in Canada and she later moved to the United States in the late 60's where she lived in Waterbury, CT. After marrying her first husband Paul Grimmel, she moved to Greene and used her carpentry skills to help build her first home. She later married Dick Levasseur and lived in Turner until divorcing in the mid 80's. She spent several years living in Lewiston raising 2 teenage boys by herself. She later lived in Lisbon Falls, spent a few years in Zephyr Hills, FL then Sabattus, and finally West Paris. There she spent several good years with Robert Corriveau and added more great family members to her life. They often traveled to Sturbridge, did lots of camping, went fishing and enjoyed life together before he passed. She spent her last few years with her good friend Rick Henderson, whom she enjoyed fishing, playing cards, listening to his band, watching movies and going for rides with. He kept her company and visited often.
Evelyn worked at the Hillcrest chicken processing plant in Lewiston in the mid 70's. She then went on to work at several shoe manufacturing shops in Lewiston throughout the 80's and early 90's. Her last job was at LL Bean manufacturing in Brunswick where she worked for over a decade stitching boots and tote bags until her retirement.
She enjoyed gardening, camping, fishing, hunting and most anything done outdoors. Evelyn liked watching movies, sewing, playing cards, playing Rummikub and Double Sequence, doing puzzles, and playing computer games like Flip Words and Mahjong. She enjoyed dining out, eating lobster and seafood as often as possible, baking pies, cooking for family gatherings and traveling. She loved driving to Québec to visit her sisters. Crossing the border several times a year to spend time with her sister Marguerite, husband Claude and their children. She also enjoyed visiting her eldest sister Yolande and husband Moise Lamontagne in St-Zacharie, QC before they passed.
She was one of 11 children and is survived by her brother Victor Gauthier of North New Portland. Also survived by her 2 sisters-in-law Arlene Gauthier of Minot and Lucia Gauthier of Lewiston. She's also survived by her brother-in-law Claude Panadis of Odanak, QC. She was Matante Evelyn to many nieces and nephews in both the U.S and Canada.
She was predeceased by her 4 sisters, Angie Colgan, Yolande Lamontagne, Rose Nadeau and Marguerite Panadis. Along with 5 of her 6 brothers, Gabe Gauthier, Clement Gauthier, Marcel Gauthier, Rosaire Gauthier and Florian Gauthier who passed at only 6 months of age.
She leaves behind her 2 sons who loved her very much and will cherish their memories of her. David Grimmel of Woodstock, Maine and Steven Grimmel of Greene, Maine.
Evelyn will be cremated and her ashes will be scattered per her wishes. A celebration of life gathering will be held at a future date TBD.
In lieu of flowers please consider donating to Pancreatic Cancer Research.
https://pancan.org