« Obituaries | Laurier C Gregoire
Laurier C Gregoire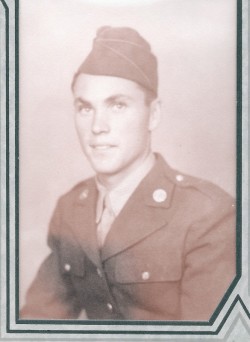 Date of Death: January 27, 2010
Date of Birth: January 30, 1924
Biography:
Augusta---Laurier (Larry) C. Gregoire, 85, of Augusta passed away peacefully with family by his side on January 27, 2010, at the Maine Veterans Home after several years of declining health.
He was born in Augusta on January 30, 1924 the son of the late Esdras and Marie Anne (Ouellette) Gregoire and husband of the late Margaret (Peggy) L (Gay) Gegoire.
He was a resident of Page Street for many years and also of Chateau Chushoc, Augusta, before becoming a resident at the Maine Veterans Home.
He was a veteran of the US Army, serving in the Pacific war theater during WWII.
Larry was known as "The Good Neighbor" of Page Street as he was always ready to give them a helping hand. He enjoyed time spent in his flower and vegetable gardens and was a woodworker making clocks for family and friends.  He was also a Red Sox fan and enjoyed watching the local basketball games.  He was a quiet man, loved his family, was a wonderful husband, father, brother, grandfather, great grandfather and to those that touched his life.
Before his retirement he was employed by the State of Maine, Department of Administration and Financial Services, Bureau of General Services.
Larry was predeceased by his parents; his wife Peggy Gregoire; brother Donald Gregoire; sister Rita Gregoire; and stepson Scott Edwards.
He is survived by two sons Patrick M. Gregoire and wife Verna of Augusta and Dennis B. Gregoire and wife Kasey of Limerick;  three daughters Karen L Foster and husband Daniel of Grantham, NH, Laurie A Gagnon and husband Jerry of Augusta,  Melinda M. Clark and husband Andy of Litchfield; four grandchildren Angelia Haidara, Josh Blanche, Annie Gregoire and Ian Barstow; six sisters Florence Maheux, Connie Rodrigue and her husband, Rene, Theresa Dostie, Priscilla Violette and her husband Joseph, all of Auguata, Juliette Dailo of Grayslake Ill and Lorraine Beaudry and her husband Valmond of Chelsea; sister-in-law Joan Pomerleau Gregoire of Augusta; one brother Moril Gregoire of Gardiner; six great grandchildren Bridget, Colleen, Deanna, Aisha, Adbullah and Charter; three stepchildren, Michael Edwards, of Whitefield, Edith (Dolly) Bernier of Waterville, Bruce Edwards of Winthrop; and many nieces, nephews and cousins.
The staff from E Company was a tremendous source of help and support during Larry's care.  The family thanks you with all our hearts, especially Maria, Dr. Pierce, Amber, Ben, Becky, Bethany, Crystal, Clarence, Ethel, Jerold, Janice, Jerry, Jodie, Judy, Kim, Krystan, Leonard, Rae, Samantha, Tina and Phil his best friend.
Burial will be in the spring at the Maine Veterans Memorial Cemetery, Civic Center Drive, Augusta, Me beside his wife.
Condolences may be expressed at FuneralAlternatives.net
In lieu of flowers donations may be made in Larry's memory to "Maine Veterans' Home" c/o Residential Care, "E" Company, 310 Cony Road, Augusta, ME, 04330. Arrangements are under the direction of Funeral Alternatives of Augusta.