« Obituaries | Moril L. Gregoire
Moril L. Gregoire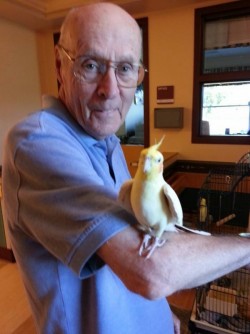 Date of Death: March 26, 2018
Date of Birth: November 30, 1934
Biography:
AUGUSTA ME – Moril Louis Gregoire, 83, passed away peacefully on March 26,2018 after a long illness of alzheimers/Dementia at the Maine Veterans Home in Augusta. Moril was born in Augusta on November 30, 1934, the son of Esdras and Marie Anne (Ouellette) Gregoire.  He was educated in Augusta schools and was a communicant of St. Joseph's Catholic Church in Gardiner.
He was predeceased by his parents and his loving wife of 52 years Marcia, who passed away in July of 2009 and whom he missed dearly every day.  He was also predeceased by four sisters,  Rita Gregoire, Constance Rodrigue, Juliet Daly and Priscilla Violette; two brothers, Laurier Gregoire and Donald Gregoire. 
Survivors include two sons, Michael and his wife Stephanie of Rollinsford NH, Martin and his companion Ellen Beland,of South Gardiner; two daughters, Michelle Pelletier and her husband Bob of West Gardiner, Marianne Bailey and her husband Frank of Farmingdale; five grandsons, Andrew Gregoire, and his companion Dominique George  of Newport News, Va., Benjamin Pelletier and his wife Megan of West Gardiner, Allen Bashaw and his companion Kiara Lewis of Farmingdale. Bobby Pelletier and his companion Kristina Luce of Gardiner and Matthew Gregoire of Rollingsford, NH, and three great grandchildren Xander Shed of Farmingdale and Kylie Pelletier, and Maverick Pelletier, of West Gardiner. He is also survived by three sisters; Florence Maheux of Hallowell, Therese Dostie of Augusta and Lorraine Beaudry and her husband Valmond of Chelsea; and many nieces, nephews and cousins.
Moril served in the Navy during the Korean War and was discharged shortly afterwards.
Moril worked and retired from Togus VA Center after 35 years and then did odd jobs including Butler Twins floral which was one of his favorites and he loved making his gardens shine.  Moril was employed at CMP also for five years and an Environmental Engineer and enjoyed meeting new people. 
Moril worked hard on the family farm, he loved animals. Some of his favorite things were gardening and he was very OCD and always had to make sure all his "ducks were in a row", literally.  He enjoyed camping with family and friends and exploring the North Maine Woods and had many adventures with Marcia along the Coast of Maine as well.
The Gregoire/Pelletier/Bailey family would like to extend a special thanks to all the wonderful people at the Maine Veterans Home for everything they did to take care of Moril, in good times and when it got tough.  They became a second family to us all.  You are truly amazing and God Bless you all.
There will be no showing as we will be abiding by his wishes to be cremated.
Graveside service will be at the Maine Veterans Cemetery, to be announced..