« Obituaries | Peter W. Greenleaf
Peter W. Greenleaf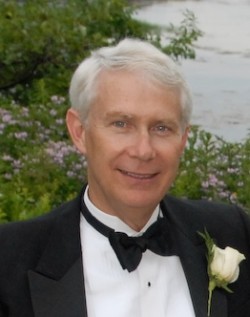 Date of Death: January 2, 2016
Date of Birth: August 16, 1947
Biography:
Peter Westbrook Greenleaf, 68, passed away surrounded by his family after a long and courageous battle against Multiple System Atrophy on January 2, 2016. Peter was born August 16, 1947 in Bridgeport, Connecticut. He was the second child of the late Robert A. Greenleaf and Jeanne H. Greenleaf, both formerly of Yarmouth.
As a child, Peter moved frequently due but the family cottage on Plum Island in Newburyport, Massachusetts provided a great source of joy and continuity his entire life.
Peter graduated in 1969 from American International College in Springfield, Massachusetts. He then joined VISTA working with the disadvantaged and established a bus company and community center in rural Pennsylvania. Peter enrolled at Boston University School of Law in 1970. It was at BU where he met his wife and best friend of 44 years, Katherine; they married in 1972.
While attending law school, Peter also completed two years of alternative service working as a counselor and teacher with troubled adolescents. He was one of the founding directors of the Center for Institutional Alternatives and worked full-time for Boston Legal Assistance Project with juveniles in South Boston and Roxbury. Peter moved to Maine with his wife in 1973 and completed his final year of law school at the University of Maine School of Law.
Peter was a founding partner of Ainsworth & Greenleaf. After five years of general practice, he was named Clerk of Court for the U.S. Bankruptcy Court where he oversaw the implementation of the upgrading of bankruptcy courts under the Bankruptcy Reform Act. In 1981, he was chosen by the Department of Justice to be the first U.S. Trustee of Bankruptcy for Maine and New Hampshire. In 1988, Peter returned to private practice, working at the Portland firms Drummond & Drummond and, later, Jensen Baird.
In 1998, Peter combined his legal expertise with his passion for social good when he became the President and Executive Director of The Great Bay Foundation in Portland. He was tasked with finding and mentoring social entrepreneurs seeking to establish non-profit organizations in Maine and New Hampshire. In addition to giving millions of dollars in grant funding, the foundation provided management and technical assistance to the organizations. Rippleffect on Cow Island, Safe Passage in Guatemala (based in Yarmouth), and Maine WoodWorks in Saco were a few of his grantees. Peter continued in this position, which he loved, until his retirement in 2009.
Peter was continuously involved in the community in which he lived. He coached his daughter's softball team, was a Portland Seamen's Friends Society trustee and a member of the Yarmouth Zoning Board of Appeals for many years.
Peter was a man of rock solid principle, courage, and fierce love and loyalty for his family and friends. He suffered no fools, loved to mess around on boats and to putter around with never-ending house projects. He loved the ocean, fishing, music (from the Beatles to Pavarotti), his island homes, single malt scotch, weather events—and particularly enjoyed first watching, and then rescuing, those who ran aground between Chebeague and Littlejohn islands. He taught himself how to play the guitar, traveled all over the world, devoured books his entire life, and was a veritable encyclopedia of history. He was irreverent to the end.
Peter was predeceased by his parents and his two siblings, David C. Greenleaf of Dresden, Maine, and Susan G. Drainville of Greensboro, North Carolina. Peter is survived by wife, Katherine M. Greenleaf of Yarmouth, his daughter, Julia G. Pitney, and her husband, Eliot Pitney, also of Yarmouth, and his son, Robert M. Greenleaf, and his wife, Rebecca S. Greenleaf, of Freeport. Peter's legacy also includes the grandchildren whom he absolutely adored: Peter W. Greenleaf (2), Marian E. Pitney (6), and Harrison J. Pitney (1).
A celebration of his life will be held at 1 pm on Saturday, January 16, 2016 at St. Bartholomew's Episcopal Church, 396 Gilman Road, Yarmouth.
Peter was committed to finding a cure for the disease he fought with enormous courage. In lieu of flowers, donations should be sent to Brigham and Women's Hospital in Boston, Massachusetts with a notation directing the funds to the research of Dr. Vikram Khurana. Gifts may also be made online at bwhgiving.org or by calling (617)424-4395.