« Obituaries | Sherman H. Greene Jr.
Sherman H. Greene Jr.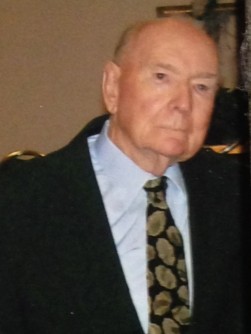 Date of Death: September 18, 2014
Date of Birth: October 21, 1925
Biography:
PORTLAND - Sherman Hugh Greene Jr. went home to be with his Lord on Thursday, September 18, 2014. He was born in Lubec Maine on October 21, 1925 to parents Sherman H. Greene and Marion Ida Edgecomb Greene. He grew up in Everett, Mass., on the outskirts of Boston attending Everett High where he met the girl he would marry, Evelyn Marjorie Nickerson and they spent 61 years together and had 3 children, Sherman Laurier (deceased), Wilfred Lee and Lynn Norma. Sherm joined the military during WWII and received a pilot's license. After the war, they moved to Rockland, Maine to be close to Evelyn's parents.  As the family grew, they moved to the Portland area where Sherm started a 29 year career with Bouroughs Electronics servicing computers.
One of the most wonderful things Sherm did was to faithfully take his family to a church where they would develop a personal relationship with God through faith in Jesus Christ. Sherm was a Deacon, Sunday School teacher, Camp Counselor and received a "License to Preach" which he used filling in at churches where there was a need.
Sherm was a faithful husband and father and he was able to make the difficult transition from home to Birchwood Assisted Care Housing where he was very content and  active in playing miniature golf, visiting Seadog's Baseball games, attending concerts, eating out with groups and "making new friends" right up until the day he went to heaven.
Sherm is survived and missed by a son, Wilfred Greene and daughter, Lynn Valcourt and by his extended family.  We thank God for Sherm's life and that the Lord took him home so quickly and peacefully.
A Memorial Service will be held at First Baptist Church of Portland, Maine, 360 Canco Rd., Wednesday 24th at 11:00 a.m. with light refreshments provided after the service.