« Obituaries | Jacqueline "Jackie" Grace
Jacqueline "Jackie" Grace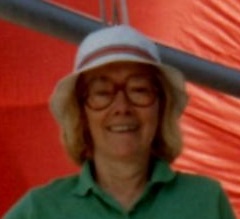 Date of Death: January 16, 2017
Date of Birth: December 21, 1924
Biography:
CUNDY'S HARBOR - Jacqueline (Jackie) Grace died peacefully on Monday, January 16, 2017 at her home on the ocean in Cundy's Harbor, Maine, a place that was very dear to her.
She was born Marjorie Jacqueline Hellyar on December 21, 1924, in The Hague, Netherlands. Her parents were Eugenie Gwendoline Soule-Grindrod and Frederick Hellyar. Her childhood was spent growing up in England with her half sister, Nelly Pouderoyen-Grindrod. After the war, in 1946, she emmigrated to Canada with her mother and father.
She later met Victor Grace of Bath, Maine and they were married in Toronto, Canada on November 16, 1949. Soon after, the couple moved to Ft. Lee, New Jersey. There, Jackie started working for NBC in New York. She had many funny stories to tell about her experiences there. Her job was to ensure the accuracy of the advertising and commercials on television, as well as censoring them to make sure there was no offensive content going out to the public.
In 1983, the couple moved to Maine and made their home in Cundy's Harbor. Victor set up a studio in their home and continued his work as an art conservator. He worked with important paintings and rare engravings. This led to finding, buying and selling English and European engravings, along with old and rare maps. Jackie eventually created a business which became "Grace Galleries". She specialized in antique and rare charts and maps, selling both through the internet, as well as at auctions. She developed a reputation as an expert, able to guarantee authenticity of everything she dealt with.
Jackie loved the discoveries and sales associated with her business. She also loved sailing and spent many happy hours sailing around the Maine coast with husband Victor. She never lost her London accent and was an intelligent lady with a dry sense of humor.
She will be missed by all who knew her, but especially by her dedicated, constant companion, husband Victor. She is predeceased by her mother, father, half sister Nelly Pouderoyen-Grindrod, and cousin Patricia Charles.
She is survived by her loving husband of 67 years, Victor Grace of Cundy's Harbor, Maine; nieces Marie Jose Bascou and Jacqueline Bascou of Paris, France; nephews Marc Bascou and Claude Bascou of Paris, France; and cousin Claire A. Scholz of Leesburg, Virginia.
A memorial "Celebration of Life" will be held at the Grace's home in early summer.