« Obituaries | Charles S. Gould
Charles S. Gould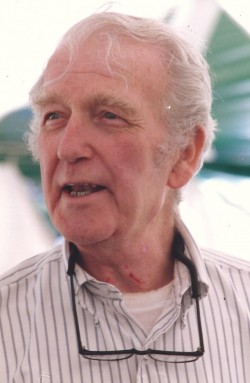 Date of Death: November 27, 2013
Date of Birth: January 21, 1923
Biography:
Charles S. Gould, aged 90, of Freeport passed away suddenly but peacefully, from congestive heart failure, embraced by his loving family, on Wednesday, November 27, 2013, at Gosnell Memorial Hospice House. He was predeceased by Dee Gould, his beloved wife and great friend of 62 years. Charlie married Dee in 1946, then earned his Master's in agronomy from Rutgers. He began his career as a product developer and salesman for E.I. DuPont which transferred him to Maine in 1954. In 1965 Charlie began his brilliant career with the University of Maine as a Cooperative Extension Service Educator in Sagadahoc and Androscoggin Counties. During his 22 years with CES, Charlie became well known to many families, farmers, and gardeners as well as town officials. Charlie took his job description seriously, "to address the expressed educational needs of the community," and he went well beyond the home economic and agricultural concerns of his traditional constituents. In the late 1960's and early '70's, he became a beacon to the back-to-the-lander searching for information and advice about organic farming. Not an organic gardener himself, he embarked on his own learning journey in order to better serve his clients. Coming around to organics he soon said, "They taught me much more than I taught them," and "I never enjoyed gardening until I started hauling manure." While other extension agents considered those fringe folks "kooky," and actually discouraged them from going organic, Charlie went all out to assist small farmers, both traditional and organic. A former colleague wrote, "Charlie's daring to be different and enthusiasm for new ideas have benefited many."  His ability to truly listen to and engage with people helped them to define and reach their goals. He once told the Maine Times, "I see my job as helping people be able to live the life they want to live."  He was instrumental in founding MOFGA. He also played key roles in forming the Coastal Economic Development Corp., the Maine Small Farmers Assoc., Kennebec Valley Growers Cooperative, and the Central Maine Arts and Crafts Guild.
Charlie's and Dee's family is large, extended, and all encompassing. For them, there are no in-laws or ex's. With their unconditional love and support, if you come into the family, you are part of the family and dear friends are in as well. "Family is everything," Charlie often intoned.  When you were around Charlie he had a way of including you, drawing you into a conversation, an activity, or a cause; nobody was left on the side-lines.  He treated all people with respect and dignity. He enjoyed lively, animated discussions and even after a whopper argument, that respect and dignity held fast. He is an abiding, positive influence on those who know him and we are better, happier people because of Charlie.
Charlie is survived by his children: Jamie & Paula Gould of Natick, MA; Matthew & Davien Gould of Falmouth, MA; Barbara Gould & Mike Ray of Lincolnville/Freeport; Charlie Gould & Gail Hood of Portland;  6 nephews; 4 grandchildren; 4 grand nieces; 2 grand nephews; 2 great-grand nieces; 3 great-grand nephews.
There will be no formal memorial gathering. The family will have a private interment in summer. Please consider a donation to Gosnell Memorial Hospice House, 11 Hunnewell Rd., Scarborough, ME 04074 or CHANS Home Health Care, 60 Baribeau Dr., Brunswick, ME 04011 or the charity of your choice. Condolences and remembrances may be shared at www.funeralalternatives.net. Remember Charlie in your own way, perhaps by supporting your local farmers, advocating for an underdog, enjoying an apple.