« Obituaries | Anne Goulart
Anne Goulart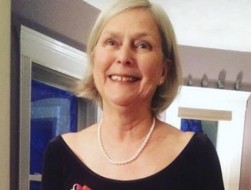 Date of Death: October 1, 2019
Date of Birth: May 2, 1947
Biography:
Dr. Anne Goulart (Campbell)
Mother, Doctor, Artist, Feminist, Friend
Dr. Anne Goulart (Campbell) died in her home on Bailey Island in Maine surrounded by friends and family on October 1, 2019. She was born on May 2, 1947 in Boston, Massachusetts, the daughter of Joseph and Barbara Goulart. Her family lived in Fairhaven and later in Bourne, Massachusetts where they owned and operated the Captain Harris Fish Market. Anne loved the sea and working waterfront throughout her life - a passion that was born during her work at the family fish market and that led her to find the home she shared with her husband on Bailey Island.
Anne completed her bachelor's degree at Boston University in 1969 following spirited involvement in the student protests of that era. She appeared on the front page of the Boston Globe joining friends and colleagues in the occupation of an administrative building. Following a move west she completed pre-med coursework at the University of Oregon, as well as medical school and a residency in Obstetrics and Gynecology at the Oregon Health Sciences Center in Portland.
Anne met her husband, Paul Campbell, 50 years ago in a friend's Massachusetts apartment, and they have lived together from that day on. They married in Oregon in 1974 and had two daughters: Laura, born when Anne was completing medical school; and Catherine, born near the end of her residency.
Dr. Goulart began practice in obstetrics and gynecology at Beth Israel Ambulatory Care in 1983, and followed that with a position at Harvard Community Health Plan, then private solo practice; and, finally, for many years, a position at Crown Ob/Gyn, a group practice based in Quincy, Massachusetts. She delivered hundreds of babies on the South Shore, and provided both routine and critical gynecological care for thousands of women over thirty years. She was an avid advocate for women and girls.  The feminist movement was a driving force in her professional life as a doctor, and in her personal life as a mother raising two daughters. 
Anne retired from medicine in 2015 and she and her husband moved permanently to Bailey Island three years later where she was well-known for her medical knowledge, her beautiful watercolor paintings, and for swimming every day from July 4 to Labor Day.
Anne is survived by her husband, her two daughters, Laura and Catherine Campbell, their husbands, Mike Reilly and Adam Boyd, two grandchildren, Lily Anne and Adam Campbell Boyd; as well as sisters, Catherine Barrett and Florence Cinderella, brothers Joseph and David Goulart, and many nieces and nephews.
Arrangements are under the care of Funeral Alternatives, 46 Bath Rd. Brunswick, Me. Condolences may be expressed at www.funeralalternatives.net