« Obituaries | Katherine L. Gott
Katherine L. Gott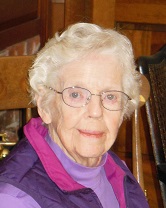 Date of Death: January 25, 2016
Date of Birth: July 30, 1924
Biography:
WOOLWICH - Katherine L. Gott, age 91, died on January 25, 2016, in Woolwich, Maine. She was born on July 30, 1924, in Arlington, Massachusetts. Her parents were Helen Scheib Gott and Chester M. Gott. She graduated from High School in Arlington, MA, in 1941 and went onto Boston University where she earned a B.S. and Masters Degrees in Education. Later she completed her Certificate of Advanced Graduate Studies at the University of Connecticut. She taught school in Oak Bluffs, NY, and Winthrop, MA, and Springfield, MA. She became a Reading Clinician in Springfield which led to her appointment as Director of Learning Disability Programs for Springfield and 15 surrounding communities. Later she was Director of Special Education for the Springfield School System.
Kathie, as she liked to be called, was a member of the First Baptist Church of Springfield, MA for 51 years from 1963 to 2014. She held many positions in the church including Moderator. She volunteered countless hours helping with dinners, providing transportation, and generally offering a helping hand.
Throughout her life, Kathie enjoyed traveling. She traveled to many places in the United States including riding a donkey down into the Grand Canyon and white water rafting on the Colorado River. Trips abroad included many countries in Europe and China.
After her retirement, she administered the Bar Exam in Western Massachusetts at Western New England University twenty five times (twice a year) to candidates for the Bar. Kathie oversaw the administration of the exam to 200 to 600 candidates during a two day session with up to 20 proctors to supervise.
In June of 2013, Kathie moved to Brunswick to be closer to family. She made friends at the Pheasant Run Apartment complex where she lived and the Day's Ferry Congregational Church where she became a member. She enjoyed her time with her cat, Sasha, who was at her side when Kathie quietly passed away at the home of her niece, Claudia, where she had come to stay just a few days earlier.
Kathie dearly loved her family. She is survived by her only sister, Marjorie G. Reed and her husband, Rev. Clayton F. Reed currently of Bath, ME. She has two nieces and their husbands, Claudia and Reid Hatch of Woolwich, ME, and Andrea and Edward Freeman of Brighton, MA. Other family include great niece, Wendy Harvey and wife, Peg Gagnon of Westbrook, ME, great nephew, Marc Harvey and wife, Betsy Roter of Bradford, MA, and great nephew, Joshua Freeman and wife, Diana Freeman of Malden, MA. Additionally, two great great nephews, Lucas Harvey and Asa Harvey of Bradford, MA, brightened Kathie's life.
A Memorial Service will be held for Kathie on February 13, 2016, at 1:00 P.M. at the Day's Ferry Congregational Church, UCC, in Woolwich, ME. A committal service will be held later in the spring at West Lawn Cemetery in Littleton, MA, where Kathie's parents are buried.
In lieu of flowers, donations may be made to Maine Public Broadcasting Network, or the Coastal Humane Society, 190 Pleasant Street, Brunswick, ME 04011.