« Obituaries | Howard H. Gooldrup Jr.
Howard H. Gooldrup Jr.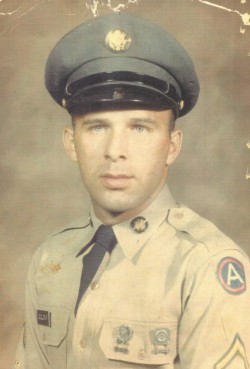 Date of Death: October 11, 2013
Date of Birth: April 26, 1941
Biography:
Howard H. Gooldrup Jr., 72, of Auburn, died on Oct. 11th, 2013 at St. Mary's d'Youville in Lewiston with his family by his side.
He was born on April 26th, 1941 in Windham, son of Howard H. Gooldrup Sr. and Eva (Turner) Gooldrup. He attended school in Lewiston and served in the U. S. Army in Vietnam as a truck driver.
On November 26th, 1966, he married the love of his life, Lucille P. Clavet of Lewiston at St. Mary's church in Lewiston. He worked many years for local shipping and receiving companies before he became a long-haul truck driver traveling all over the country. He ended his truck driving career driving for Prehung Doors, a job he really enjoyed. After his retirement ten years ago he spent lots of time tinkering in his barn and working around the house. He enjoyed watching Nascar, the Bruins, hunting, fishing and working in the garden with his wife.
Howard will be sorely missed by his wife of 46 years, Lucille, and their three boys, Howard Gooldrup III and his wife Doreen, Edward Gooldrup and his wife Christina, and Michael Gooldrup and his companion Jesse Dube. He was also the grandfather of three amazing grandkids; Stacie, Eric and Paige Gooldrup who knew him as "Popeye" and always brought a smile to his face. He also leaves behind his sister Dorothy Tardif of Colorado Springs who was able to visit him in 2010, his sisters-in-law Theresa and Mike Tomasino of New York, Annette Braxton of Lewiston and brother-in-law Fred and Pauline of Connecticut, Mike Thibodeau of Lewiston along with many nieces and nephews.
He was predeceased by some very dear family and friends; His sister Helen Goyette, his friends Bill and Lynn Millett, and his in-laws Maurice and Arlene Clavet and Jerry Clavet.
Howard's wishes were to be cremated and have his ashes spread at his favorite hunting spot. No formal service will be performed but a gathering will be held at his oldest son's house to celebrate his life on Oct. 20th at 2pm. Family and friends are invited to attend.
Condolences may be expressed at Funeralalternatives.net