« Obituaries | George Robert Godin
George Robert Godin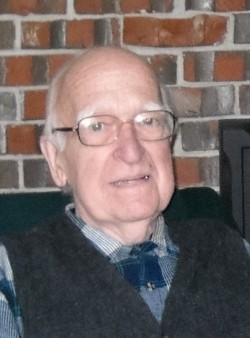 Date of Death: November 4, 2010
Date of Birth: July 26, 1927
Biography:
Old Town/Bangor/Winthrop- George Robert Godin, Age, 83, of Winthrop, died on November 4, 2010, surrounded by family, at Heritage Rehab and Living Center.
He was born in Old Town in 1927, son of George and Elizabeth (Guitard) Godin. He graduated from Old Town High School at the age of 16.  He lived 58 years of his life on Bradbury Street in Old Town. In January 2010 he moved to Country Villa in Bangor, and then in August to Heritage Rehab and Living Center in Winthrop.
Bob retired from Bangor Hydro in 1990 after 17 years of service. He previously worked for Great Northern Paper Co. and Merrill Trust.  He was also a veteran of the US Navy.
Bob loved music, books, bowling, and golf. He was a life long learner, and taught himself to play several instruments, and learned how to operate and program personal computers. One of his favorite joys in life was traveling around to hear his friend Brian Catell's band play. On a rare occasion he would fill in for Brian and play a piano gig. Bob was a very private person who appreciated intelligent conversation, but mostly one on one, not large groups.
Bob is survived by his sister, Bernice Laflamme of Dennis, MA, M. Doris Cyr of Winthrop, and nephew John C. Dean and wife Carol of Winthrop, and several other nieces, nephews, and cousins.  In addition to his parents, Bob was predeceased by his sisters Imelda Guptill, Mary Rose Hughes, Florence Currier, brothers Leo Godin, Joseph, Alphonse, Emil and Richard Godin, and two infant siblings Doris and Francis Louis.
John and Carol Dean wish to give special thanks to Healthreach Hospice for their thoughtful care and guidance and the staff at Heritage Rehab and Living Center in Winthrop for their special care of Robert to the very end.
A remembrance reception will be held at Heritage on Tuesday, November 9, 2010 at 2:00 PM.  Private graveside services will be held at a later date. Condolences may be expressed at funeralalternatives.net  Contributions may be made in Robert's memory to Healthreach Hospice or your local Hospice organization.