« Obituaries | Norman Godin
Norman Godin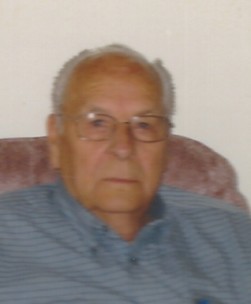 Date of Death: December 28, 2016
Date of Birth: August 20, 1927
Biography:
Norman Godin, 89 of Lewiston, ME died Wednesday, December 28th, 2016 peacefully surrounded by his family at CMMC after a brief illness.

He was born in Ft. Kent, ME on August 20th, 1927. The son of Louis Godin and Delia Long Godin.

He joined his brothers in the service after not seeing them for 5 years.
When he returned from the military he lived in Lewiston, ME and worked for the shipyard in Portland. 

In 1947 he moved back to Ft. Kent where he met the love of his life Rose Paradis. They married in 1948 and he owned and operated a junk yard and at the same time worked for Slim Worman delivering fuel to the logging camps in the Allagash up in Northern Maine. 

In his late twenties he had to have a kidney removed in Tougus. He couldn't stand to be gone from his wife & kids, so he walked out of the hospital 2 days after surgery and started to hitchhike home only to collapse before being picked up and taken back to the hospital.

In 1962 he relocated his family to Thompsonville, CT where he started working for Phfaner Bearing in Hartford, CT. In 1967, he purchased the Sunoco Gas Station on Hazard Avenue in Hazardville, CT. He continued to work both jobs until he was sure it would be successful. He became known as a gifted Mechanic and his sons and several grand children followed in his footsteps. He was a member of the Moose Lodge in Enfield, CT.

In 1972, he relocated his family to Auburn, ME where he sold and repaired cars. In 1980, he relocated to Greene, ME and started Godin's Auto Sales and loved working alongside his son's. His oldest son Dale took over the business in 1991 and he continued working part-time with him well into his 80's. 

He loved driving, playing cards, country music, hunting, fishing, shopping, sugar and lollipops and whatever you did, you didn't want to mention sports! He hated sports!! He was a member of The Eagles in Lewiston, ME. He loved life and was always ready to go anywhere!

His greatest pleasure was his wife, children, grand children & great grand children.

He is survived by the love of his life Rose Paradis Godin.  His son Dale & wife Sue Godin of Auburn, ME; Larry & his wife May Godin of Monmouth, ME; Gary & his wife Karen Godin of Denver, NC; his daughter Diane & her husband Henry Letalien of Rochester, NH; son Donald & his significant other Barbara Villani of Leeds, ME; daughter Brenda Bowie of Auburn, ME; daughter Bonnie & husband Jimmy Gauthier of Poland, ME; his sister Doris Godin Savage of New Britain, CT. His first born grand-daughter Lisa Godin of Sabattus was a constant support of her grand-parents and considered more of a daughter/sister than a grand-daughter niece.

Also leaves behind 17 grandchildren, 17 great grandchildren and 2 great great grandchildren. 

He is pre-deceased by his parents, Louis & Delia, his brothers Gilbert, Thomas & Leon, his sisters Anita, Lillian, Mary & Germaine, two  daughters Judy Godin Vandini and Sandra Godin Falk and one son William Joseph Godin. 

He was the greatest husband, dad, pepere and friend. He will be greatly missed by everyone that knew him. He was quite a man and has left a great legacy.
A celebration of Norm's life will be held at 1pm on January 14th, 2017 at the Eagles Club on Sabattus St. in Lewiston. Donations may be made to the American Cancer Society to help fight breast cancer and lung cancer.