« Obituaries | Donald Godfrey
Donald Godfrey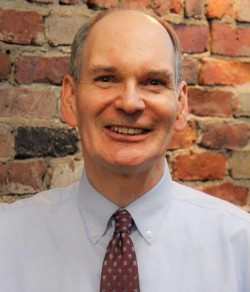 Date of Death: April 2, 2017
Date of Birth: May 9, 1958
Biography:
YARMOUTH- Donald Godfrey, 58, of Yarmouth, passed away peacefully at home, surrounded by loving family on Sunday, April 2, 2017.
Donald was born in Bangor, ME to the late Prentiss and Frances Edwards Godfrey on May 9, 1958. Donald married the love of his life, Miriam Lisa Curtis of Brunswick, ME on April 19, 1986. They settled in Yarmouth where they raised their three daughters, Abigail, Emily and Victoria Marie.
This poem written by his brother John, on the eve of their wedding, says it all:
Donald Used Just Eight Words to Explain
How Miriam Drives Him Insane.
The Words Showed Emotion
As Deep As The Ocean:
"I Love Her Yet More Than My Plane."
Donald graduated from Middlesex School of Concord, MA, class of 1976 and Harvard College of Cambridge MA, class of 1980. He worked in finance throughout his career with his final role as Mortgage Lender for Carriage House Mortgage in Falmouth.

Donald was also an accomplished pilot. His passion for all things aviation stemmed from his father Prentiss and grandfather, Edward Rawson Godfrey, who established Godfrey Field in Bangor in 1927. Donald obtained his private pilot's license at 17 and later added seaplane and instrument flying privileges. Donald joined the Maine Civil Air Patrol, rising to the rank of Lt. Colonel and serving as Director of Operations, Counter Drug Officer and Historian. Lt. Colonel Godfrey received many awards for his Civil Air Patrol Service including the Chuck Yeager Award (1999), Benjamin Davis Award (2000), Grover Loening Award (2008) and the Paul E. Garber Award (2015). In addition, The Federal Aviation Administration awarded Donald the prestigious Wright Brothers Master Pilot Certificate in 2016, as a result of nearly 50 years of flying with a perfect record of safety and regulatory compliance. He belonged to many other aviation organizations; Aircraft Owners and Pilots Association, American Yankee Association, Aero Club of New England, ME Aviation Historical Society, and The Quiet Birdmen.

Other volunteer efforts included Ronald MacDonald House of Portland, Safe Passage of Yarmouth, Junior Achievement, and Big Brother, Big Sister. He also held a Black Belt in the art of Korean Sword (Kuhapdo) and was a member of First Parish Congregational Church of Yarmouth.

Donald's favorite role was as a loving dad, husband, and friend. He loved traveling with his wife and children, recently to Spain, England and South Africa.

He was honest, loyal and held in the highest regard both personally and professionally.
Donald is survived by his wife, Miriam Curtis Godfrey of Yarmouth; Daughters, Abigail Frances Godfrey of Portland; Emily Louise Godfrey of Portland; and Victoria Marie Godfrey of Yarmouth; Brothers, John E. Godfrey and wife Elizabeth from Beverly, MA; David Godfrey and wife Regina Godfrey of Southport, ME; Sisters, Ann MacDonald and husband Lloyd of Cambridge MA; Alice Godfrey Eyles and husband Steve of Hamden; Father and Mother in law, Myron and Mary Louise Curtis of Brooksville; Brother in law, Dean Ramsdell Curtis of Brooksville; Sister in law, Margot Curtis Kinsman and husband Charles Penney Kinsman, III from Brunswick. Donald also leaves behind numerous nieces, nephews, cousins and very close friends and his two devoted puppies, Wolfgang and Brodie.
The Funeral Service will be held at First Parish Congregational Church of Yarmouth on Thursday, April 13 at 11:00 am. A burial service at Mt Hope Cemetery in Bangor will be held at a future date.
In Lieu of flowers, one may contribute to the
'Donald Godfrey Maine Youth Learn to Fly Memorial Scholarship'
Please send contributions to:
Bangor Savings Bank
215 US-1 ALT #1
Falmouth, ME 04105