« Obituaries | Richard "Dick" Gleason
Richard "Dick" Gleason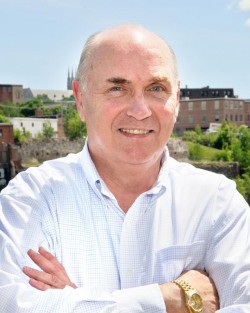 Date of Death: February 9, 2019
Date of Birth: January 25, 1948
Biography:
Richard"Dick" Drummond Gleason, 71, a radio pioneer and leading businessman, former mayor, community leader, and cherished husband,father and grandfather - passed away peacefully in his sleep on Saturday, Feb. 9 at his home in Auburn, Maine. 
Born January 25, 1948 in Long Branch, NJ, he was the son of Elizabeth Drummond Gleason and Wallace Frederick Gleason and brother of Robert Wallace Gleason, all now deceased. He is survived by his loving wife of 50 years, Kathy Saunders Gleason and his daughters Karen Gleason Graham of Purcellville, Va., Jill Gleason Sergeant of Andover, Mass.,and Ann Gleason Teas of Dresden, Maine. Also, three son-in-laws:Nicholas Graham, Stephen Sergeant and Alexander Teas. He had seven grandchildren: Connor, Harrison, Thatcher and Wyatt Graham; Julia and Erik Sergeant; and Sami Teas.

Dick graduated from Plainfield High School in Plainfield, NJ in 1965 where his father was principal and he played football and basketball. His team won the state championship football game in 1964. He was the third generation in his family to attend the University of Maine at Orono where he graduated in 1969 and received a Masters in 1970. He attended U.S. Army officer training in Fort Benning, Ga. in 1971 and served his country in the Army Reserve for eight years. 

Following a lifelong passion for radio as a youth, Dick worked at the campus radio station at Orono, and at the same time was also a disk jockey at a station in Bangor. After he and Kathy were married in Houlton,Maine in 1969, Dick was hired to work for H&R Block as a regional manager in Vermont. However, his love of radio and dream of owning and operating radio stations never ceased, and when an opportunity arose to work for a new radio station with a tower on Sugarloaf Mountain in Maine, he leapt at the chance, was hired, and subsequently moved to Skowhegan in 1973.

While working for WTOS, he researched stations for sale across New England and eventually found WNWY in Norway, Maine in 1975, which he purchased and renamed WOXO. The family moved from Skowhegan to Norway and Dick began a decades-long career in the radio business from 1975 to today. Dick never retired and was president of Gleason Media Services - which included two AM stations and five FM stations broadcasting from Kennebunk to Rangeley, with an expansive audience of over a quarter million listeners. He believed the stations were an important extension and supporter of community news, and over the years the programming included interviews with local businesses, nonprofits and community leaders,live broadcasts of local high school sports games, as well as Boston Red Sox, Boston Celtics and Portland Sea Dogs games. He also actively supported many local, state and Federal candidates and officeholders over the years -
and was often seen, microphone in hand, interviewing politicians during their tours and events throughout western Maine for news clips on his radio stations. In addition to his stations, from the mid-1980s to 1999, Dick owned and operated a successful Radio Shack franchise in Oxford, Maine. 
Parallel to his radio career, Dick was a strong believer in community service and served as mayor of Auburn from 2009-2011 and on the Auburn town council from 2006-2008. He was president of the Androscoggin County Chamber of Commerce and Oxford County Chamber of Commerce, local Kiwanis Clubs, and Growth Council - and also served on the boards of many organizations,including the Central Maine Community College Scholarship Foundation, Boys and Girls Club of Lewiston-Auburn, and The Chapman House. In 2008, the Auburn Business Association named him Auburn Citizen of the Year. Dick and Kathy have been members of the United Methodist Church of Auburn since 2002, and prior to that were members of the
Second Congregational Church in Norway.  In his spare time, he enjoyed playing all sports, but he especially loved regular tennis matches with his friends on the court in his backyard in Auburn. He and Kathy also had a passion for travel, and took
many trips to Europe and around the United States.  
Above all, Dick will be remembered for his warm smile, his endearing chuckle, his quick wit and humor, and his many acts of kindness on behalf of his many friends and loving family members throughout his lifetime.
A memorial service will be held on Saturday, Feb. 16 at 1 p.m. at the United Methodist Church of Auburn in Auburn, Maine. I
n lieu of flowers, the family requests a donation be made to the Lewiston-Auburn Boys and Girls Club or the United Methodist Church of Auburn.