« Obituaries | Roma C. Girardin
Roma C. Girardin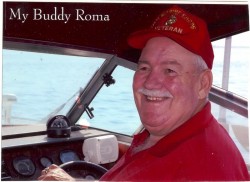 Date of Death: June 26, 2010
Date of Birth: July 19, 1938
Biography:
AUBURN – Roma C. Girardin, 71, of Auburn, passed away at Clover Manor on June 26, 2010 after a courageous battle with cancer, his loving wife was by his side.
He was born in Andover, NH on July 19, 1938 the son of Laurier and Felanise (Boutin) Girardin.
Roma was educated in Durham schools. After school he joined the U.S. Marines and served during the Korean conflict.  He also served 2 years in the Peace Corp. as a demolition specialist in Africa.
He married Donna Pomerleau on October 31st, 1980. They are long time residents of Auburn.
Roma worked in the construction industry most of his life.
He enjoyed fishing and taking people out on his fishing boat called the Donna Leigh.
Roma is survived by his beloved wife Donna; daughter Diana Weston and husband Albert of Canton; stepson Marc Pomerleau of S. Portland; grandchildren Jacob Weston, Charity Bachelder-Coro, and Chris Bachelder. He was predeceased by his daughter Michelle Flynn; sister Rena Albert; and brother Normand Girardin.
The family would like to express a special thanks to Edward Koss and Clover Health Care Staff, side 1, and Michele Jasinowski, A.C.N.P.
NOTICE
GIRARDIN Roma C., 71, of Auburn, passed away in Auburn on June 26, 2010. Family and friends are invited to a graveside service at Gracelawn Memorial Park,980 Turner Street, Auburn on THURSDAY, July 1st at 1 PM. In lieu of flowers, donations are preferred to the American Cancer Society, 1 Bowdoin Mill Island, Suite 300, Topsham, ME 04086.