« Obituaries | Muriel A. Girardin
Muriel A. Girardin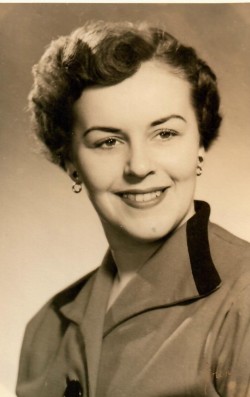 Date of Death: January 25, 2019
Date of Birth: December 14, 1932
Biography:
Falmouth-Muriel A. Girardin, 86, died on Friday, January 25, 2019 at Sedgewood Commons after a long and difficult journey with dementia.
She was born in Lewiston, Maine on December 14,1932 to Lorenzo and Elmerine (Nadeau) Potvin, thus becoming a member of a large extended family. She grew up in Lewiston, and graduated from St. Dominic's high School in 1950. She had a long career in office accounting, and retired from the Hartford Insurance Agency in 1997 after decades of service as a bookkeeper.
Muriel fell in love with and married Marcel Girardin in 1955, gaining yet another large extended family. They made their home in Auburn, and raised four children there. Family was everything to her, though she did manage a full time career and enjoyed community theater. Her faith brought her a church family as well and she shared her beautiful voice as a choir member for many years.
She was predeceased by her parents, her spouse and many members of her extended families. She is survived by her four children and their spouses, nine grandchildren and their spouses, nine great grandchildren and one on the way. She also leaves her beloved sister who resides in Texas, and many extended family members. We all celebrate her life and mourn her passing.
Muriel's family would like to thank the kind and courageous staff of Sedgewood Commons for their tireless efforts to care for our mother and bring her moments of joy these past five years.
To honor Muriel's great concern for feeding the hungry, please consider a donation to the Good Shepherd Food Bank.
Arrangements are being made with Funeral Alternatives, 25 Tampa Street, Lewiston, Maine. Calling hours will be held at the funeral home on Thursday, January 31 from 4:00-6:00 PM. A funeral Mass will be held at the Basilica of Sts. Peter and Paul Ash Street Lewiston on Friday, February 1 at 2p.m.  Burail will follow in St. Peter Cemetery, Switzerland Road, Lewiston.