« Obituaries | Richard John Gilman
Richard John Gilman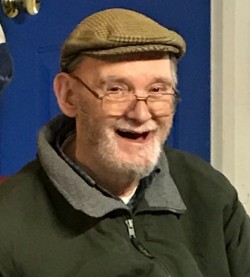 Date of Death: May 29, 2021
Date of Birth: October 18, 1939
Biography:
Freeport- Richard John Gilman, 81, of Freeport, ME, formerly of Wallingford, CT, passed away peacefully on May 29, 2021. Richard was born in Meriden, CT on October 18,1939, the son of Veronica S. and Wilfred G. Gilman Sr. He lived most of his life in Wallingford and attended Holy Trinity School. Richard and his family moved to Vermont during his high school years. He graduated from Black River High School in Ludlow, and went on to attend Vermont Technical College in Randolph. During his years in Vermont, his family owned a chicken farm. Richard worked the family farm for over six years while attending school and cared for the chickens daily, helping to raise over 40,000 chickens annually.
 Richard worked for General Electric in Ludlow and Rutland and joined the National Guard. Upon moving back to Wallingford, he continued at GE for over twenty-five years in Plainville, CT. Richard was a patriotic person and devoted his time on weekends to continuing service in the National Guard. He loved his country and was knowledgeable especially of U.S. History.
Richard was a devout Catholic and member of The Church of the Resurrection in Wallingford.
He was a man of service and did many jobs for the church, including running Bingo and cleaning the church every Saturday. He was also a weekly collector and usher. People would recognize Richard for his consistent attendance and smiling, friendly personality. He truly enjoyed attending Mass and being part of the church community, developing many friendships with the priests and parishioners over the years. He joined the Knights of Columbus Pinta Council #5 and became a Fourth Degree Knight, volunteering to raise money for families in need.
 Richard was a kind and generous person. He was helpful to others in Wallingford, always offering to drive people to appointments, to church, or to pick up groceries at the store. He volunteered his time without hesitation and never asked anything in return. He lived a simple life and was conscious about the environment. Anyone who knew Richard admired his impeccable memory and witty one-liners. He never forgot a name or date!
In his later years, Richard moved to Freeport, ME to be closer to his brother Bill and his family. While in Freeport he became a member of St. Jude Church and resumed his role as collector at Sunday Mass. Richard quickly became friendly with parishioners and enjoyed many pancake breakfasts and coffee hours at the church.
Richard loved getting together with family and friends for holidays and birthday celebrations. He was always a generous gift giver. As the keeper of the Gilman-St. Jean family history, he loved to talk about genealogy and to share family stories with the younger generations. Richard was famous for his jokes with the grandnieces and nephews and he was always interested in their accomplishments and hobbies.
Richard will also be remembered for his love of old westerns and Honey Nut Cheerios. He kept his cabinets stocked with at least ten boxes at all times. He was always prepared! All will miss Richard's warm smile and gentle sense of humor.
 Richard leaves behind his brother, Wilfred G. Gilman Jr. (Bill); his nieces Sara J. DeMatteo of Scituate, MA, Nancy J. Cuneo and husband Paul L. Cuneo of Manhasset, NY, Amy C. Cartmell and husband Matthew B. Cartmell of Freeport, ME; and his nephew Adam B. Gilman and wife Laura J. Fralich of New Gloucester, ME, as well as ten grand nieces and nephews. He was predeceased by his brother, Gordon S. Gilman. 
 A Funeral Mass will be held for Richard at St. Jude Catholic Church in Freeport, ME on Saturday, June 19, 2021 at 11:00 a.m. and a Memorial Mass will be held at The Church of the Resurrection in Wallingford, CT on Saturday, July 10, 2021 at 10:00 a.m. The burial will take place in the Gilman family plot at Pleasant View Cemetery in Ludlow, VT on Saturday, July 10, 2021 at 4:00 p.m. In lieu of flowers, donations to St. Jude Church in Freeport, ME or The Church of the Resurrection in Wallingford, CT will be accepted in his memory.
 Condolences may be expressed at www.funeralalternatives.net