« Obituaries | Victor E. Gilbert
Victor E. Gilbert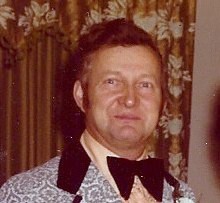 Date of Death: November 28, 2014
Date of Birth: December 11, 1926
Biography:
Victor E Gilbert 87 of Lewiston Maine Passed away on Friday Nov. 28 surrounded by his family.
He was born in Saint Joseph –de- Beauce, Quebec on Dec. 11 1926 to Parents George and Marie Louise (Plant) Gilbert.
Victor was a member of the Knights of Columbus. He enjoyed dining out, and visiting his family in Canada.
Victor worked as a contractor for many years.
He was predeceased by his parents, and a daughter, Muguette Roberts
Surviving him is his loving wife, Muriella E Gilbert
Children; Germaine Gilbert of N Monmouth
Children Yvon Gilbert Wife Jodie Gilbert of Greene
Grand Children Morgan Gilbert
Grand children John P Arnoldy wife Francesca Arnoldy; great, great grand Children; Hays, Maeven  of Vermont
Great grandchild; Thomas Williams's wife Alison, children Damon; Ty; Ember; of New Hampshire.
Granddaughter; Rebecca Langlois; great great grand children Zachary; Julianna. Of Sabattus
Granddaughter; Jennifer Roberts no children. Of Lewiston
Grandson; Steven Robert; wife Justine great great grand children Cohen Of Lisbon
A memorial visitation will be held from 6 to 8pm on Friday, December 5th 2014 at Funeral Alternatives, 25 Tampa St. Lewiston, Maine. A mass of Christian burial will be held on Saturday, at 1pm on December 6th, 2014 at Holy Cross Church on Lisbon St. in Lewiston, Maine.