« Obituaries | Ivan C. Gilbert Sr.
Ivan C. Gilbert Sr.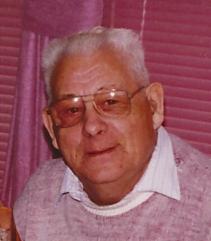 Date of Death: October 19, 2013
Date of Birth: December 16, 1920
Biography:
Ivan C. Gilbert Sr., 92, of Augusta, died on October 19th 2013 at Togus V.A. Hospital.
He was born on December 16th, 1920 in Vassalboro, the son of Jessie and Estella (Sherman) Gilbert.
After High School Ivan served his country proudly in the U.S. Army during World War II.
He was a long time concrete mixer truck driver. Ivan was a member of the Riverside United Congregational Church in Vassalboro, American Legion #164 Falmouth, and Masonic Lodge #166 in Vassalboro.
He was an avid candlepin bowler and was a Captain of two teams. He also enjoyed looking at pictures and talking to his family.
Ivan was predeceased by his brother Perry Gilbert; sisters G. Claire Gray, Doris Porter, Alice Gilber; son Ivan C. Gilbert Jr.; daughter Elizabeth Gilbert Devaudreiul; and  grandson Daniel Hoppe. He is survived by his sons Edward, Richard Gilbert; daughters Judith Chaney and husband John, Barbara Hoppe and husband Virgil; 11 grandchildren; many great-grandchildren; and several nieces, nephews, and cousins.
NOTICE
GILBERT Ivan C. Sr., 92 of Augusta, died on October 19th at Togus V.A. Hospital. Family and friends are invited to a memorial service at Riverside United Congregational Church, Corner of Webber Pond Road and Routes 100 and 201, Vassalboro, on Saturday, Oct. 26th at . Burial to follow with military honors at Union Cemetery. In lieu of flowers, donations are preferred to Wounded Warrior Project, P.O. Box 758517, Topeka, Kansas 66675.