« Obituaries | Andre Andy John Giguere
Andre Andy John Giguere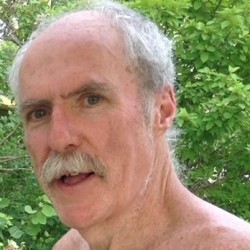 Date of Death: July 22, 2022
Date of Birth: December 27, 1958
Biography:
Andre' (Andy) John Giguere, 63, of Sabattus, died on July 22, 2022, at home, in the loving arms of his sisters. Andy was the youngest child of Marie (Martin) and Rocky Giguere. He leaves behind two brothers, Rocky (Sharon) of Williams, Arizona, and Michael of Harrison, and two sisters, Lynda (Rick Clair) of Juneau, Alaska and Denise (Dee Dee) Giguere of Sabattus, two nieces, two nephews, four grand-nieces and one grand-nephew. He was preceded in death by his brother, Melvin, and his parents.
Andy was a wonderful man who enjoyed simple pleasures. He loved fireworks on the 4th of July, swimming and cook-outs at Sabattus Lake in the summer and snowmobiling on it in the winter. He was a wicked good chess player and challenged himself with brain teasers and word games of which he amassed a copious collection. He was immensely fascinated by bears. He avidly watched westerns and re-runs on television and got a kick out of Fred Flintstone. He was a creature of habit who always had beans and hot dogs for dinner on Saturday, like a true Mainer. Although he loved being home, he traveled with his sister, Dee Dee, to Alaska, Florida and Washington, D.C. (where he could satisfy his interest in Presidential history). And like his father, Rocky, he loved being behind the wheel of his car.
In past years, Andy took great pride in his work at Pathways, where he operated a table saw. More recently, he was very happy at Creative Works. He made many friends there, and one of his greatest frustrations was his inability to continue going every week to see them and participate in activities.
Throughout the year and a half of his illness, Andy rarely if ever complained. When asked how he was doing, his answer was invariably "good". He was courageous and well-loved by family and friends alike. His family is devastated by his loss and will deeply miss this quiet, gentle man and his witty sense of humor.
Friends and family are invited to a memorial service on October 16, at 1:00 PM, at his home at 20 Niles Road in Sabattus by the lake that he loved. Light refreshments will be served. Please join us as we remember our dearest and sweetest brother.
Andy's family would like to thank the care providers of St. Mary's ICU, Oncology, and Infusion Therapy, as well as Annie Rice, PA-C of B Street Health Center and Jackie of Androscoggin Home Health Palliative Care.