« Obituaries | Marie Irene Giguere
Marie Irene Giguere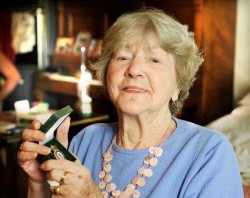 Date of Death: July 27, 2017
Date of Birth: August 16, 1924
Biography:
Marie Irene (Martin) Giguere died July 27, 2017, at home in Sabattus, Maine, surrounded by her loving family. She was born August 16, 1924, in Portsmouth, England, one of 12 children born to George and Nel Martin.
Growing up in a major naval port during WW II, Marie witnessed the ravages of war first-hand, enduring air raids, bombings, black-outs and rationing. She often told stories of her experiences, including two years' service in the Women's Land Army for which she was honored in 2012 by the British government. In 1944, she met Rocky Giguere in England with the D-Day invasion forces. They were married in Portsmouth in August 1945. Following the war and Rocky's naturalization as a U.S. citizen, Marie and their son immigrated to the United States in 1947. She became a citizen in 1952 and spent the rest of her life in Maine, raising her family, fishing, growing flowers, and enjoying the lake.
Marie was preceded in death by son Melvin, her parents, husband Rocky, eight brothers and sisters, a nephew and two nieces in England. She is survived by sisters Elsie Chester (Vic) of Portsmouth, England and Kitty Moon of San Miguel de Salinas, Spain; children Rocky (Sharon) of Williams, Arizona; Michael of Harrison, Lynda (Rick Clair) of Douglas, Alaska; Denise and Andre of Sabattus; grandchildren Heather, Brian, Julie and Austen; four great-grandchildren; nieces and nephews and extended families in England, Spain and Turkey.
The family wishes to thank Androscoggin Hospice & Home Care, CNA Barbara Lucas, d'Youville Pavilion, Dr. Joe Strauss and Sandee Gilbert-Lord for caring for their mother. She is sorely missed by her family and furry companion, Joey.
May God sleep on your pillow, Mum.
A Memorial Gathering will be held Thursday, August 3, 4-7 PM at Funeral Alternatives, 25 Tampa Street, Lewiston, Maine. Light refreshments will be served.