« Obituaries | Jean Rose Coulombe Giddinge
Jean Rose Coulombe Giddinge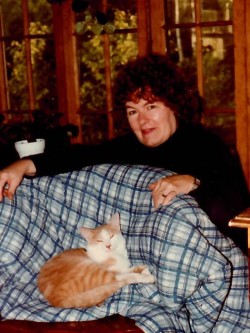 Date of Death: July 25, 2022
Date of Birth: August 7, 1931
Biography:
Jeanne Rose Coulombe arrived on Earth August 7,1931 to the delight of her parents, Adelard and Dorilda (Derocher) Coulombe. July 25, 2022, in the early hours of the morning; Heaven celebrated the arrival of Jeanne Rose (Coulombe) Giddinge. She was reunited with the love her life, her husband, Keith Giddinge; and, the rest of the Coulombe family.
She is predeceased by her parents, Adelard and Dorilda Rose (Derocher) Coulombe; her son, Jimmy Bowen, step daughter Susan Fernald; and her sister, Yvonne Jeannette (Coulombe} Arris.
Surviving Jeanne to carry on her legacy are her children: Richard Bowen of Brunswick, Maine. Carl and Carolyn (Cabe) Bowen of North Carolina.
Jeanne's grandchildren: Andrea and husband Ryne Eichten and Brandon Bowen and great- granddaughter, Myranda Bowen of North Carolina. Step grandchildren: Amanda and Ryan Fernald, and step great grandchildren, Tommy and Leah of Topsham, Maine.
Aunt Jeanne, also affectionately known as AJ, is also survived by nieces and nephews, Linda Arris and son, Daniel Arris, Pauline and husband Dale Hanson, Janice and husband Gary Rodriguez of Brunswick; Sean Sypniewski and wife Shannon Nickerson of Bath. Jeanne had many friends which included pen pals all across America and pen pals from the soap opera, The Young and the Restless. Her special friend, Kimby Winters, whom she thought of as a daughter, took excellent and loving care of her when Jeanne moved back to Brunswick, Maine on July 23, 2016.
The family wishes to thank Northern Lights Hospice team of Portland, Maine for the attentive care given to Jeanne's medical and spiritual needs and Funeral Alternatives of Brunswick for taking care of Jeanne.
In lieu of flowers, donations can be made to Midcoast Humane Society or Meals on Wheels in Brunswick, Maine
Interment will be at the Maine Veterans Memorial Cemetery in Caribou, Maine.