« Obituaries | Cecile A. Giasson
Cecile A. Giasson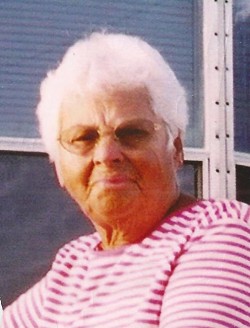 Date of Death: November 29, 2017
Date of Birth: July 4, 1922
Biography:
YARMOUTH - Cecile A. (Duplessis) Giasson, 95, of North Fort Myers, Florida, born in Van Buren, Maine on July 4th, 1922, to Hilaire and Eva (Lebel) Duplessis passed away November 29th, 2017 at Coastal Manor surrounded by family and Coastal Manor's devoted staff.
Cecile is the fourth child out of 10 siblings, and known to her many friends as "Ceci".
In 1940, Cecile moved to Lewiston and worked at the Ritz Diner as a cook. In 1942, during WWII Cecile moved to New Jersey and worked at RCA as a tube tester. On May 20th, 1943 Cecile married Roger L. Giasson in Hollidaysburg, PA. In 1945 Roger and Cecile moved to Auburn, ME and worked at the Bates Mill and retired in the local shoe shops.
Roger and Cecile have lived in Florida since 1984 with summer vacations in Maine and Connecticut.
Cecile was a former member of St. Anne in New Auburn and Holy Cross in Lewiston. She was a Girl Scout leader of Troop 299 in Lewiston from 1968 to 1975. She volunteered at LARC Store in Lee County, FL for nearly 11 years. Cecile enjoyed Florida weather, her family, cooking, gardening flowers and vegetables, rocking babies, scouting, camping, fishing and arts and crafts.
Cecile is survived by daughters, Linda and Bert Bilodeau of Hubert, NC; Gail and Dan Curran of Sabattus; and June and Russell Bonner of Sterling, CT; daughter-in-law, Claire Giasson of Auburn; 9 grandchildren, 13 great-grandchildren, and one great-great granddaughter; two sisters, Anita Bard of Lewiston, and Jean Michaud of Florida.
Cecile is predeceased by her loving husband, Roger, of 65 years in 2009. And, an infant daughter, Marie Ann in 1948, a son, Lawrence (Larry) Giasson in 2007, two sisters: Julie Longley and Laurette Bard, and five brothers: Ludger, Romeo, Gilbert, Gerard, and John.
The family would like to extend a special "Thank You to ALL the staff" at Coastal Manor for the devoted and compassionate care Ceci received. Ceci will be very much missed by all those who loved and knew her.

A celebration of life will be held May 8th, 2018 at 1 p.m. at Saint Peter's Cemetery, Lewiston, ME.